BLU-RAY REVIEW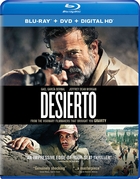 Desierto
Basic Information on new release titles is posted as soon as titles are announced. Once reviewed, additional data is added to the database.
(Studio/Distributor):
Universal Studios Home Entertainment
(Catalog Number):
64178058
(MPAA Rating):
R
(Rating Reason):
Strong violence and language.
(Retail Price):
$$29.98
(Disc Type):
Single Side, Dual Layer (BD-50)
(Widescreen Edition):
Yes
(Full Screen Edition):
(Running Time In Minutes):
89
(Color Type):
Color
(Chaptered/Scene Access):
Yes
(Closed Captioned):
Yes
(Regional Coding):
A
(Theatrical Year):
(Theatrical Release):
Yes
(Direct-To-Video Release):
(Disc Release Date):
2/7/2017
(THX® Digitally Mastered):
(Director):
Jonas Cuaron
(Screenplay/Written By):
(Story):
(Music):
(Director Of Photography):
(Production Designer):
(Visual Effects):
(Costume Designer):
(Editor):
(Supervising Sound Editors):
(Re-Recording Mixers):
(Executive Producers):
(Co-Producers):
(Producers):
(Academy Awards):
(Principal Photography):
(Theatrical Aspect Ratio):
(Measured Disc Aspect Ratio):
(Disc Soundtrack):
DTS HD Lossless 5.1
(Theatrical Sound):
(Theatrical Re-Issue Soundtrack):
(DTS Bit Rate):
(Dolby Digital Bit Rate):
(Additional Languages):
(Subtitles):
In Desierto, what begins as a hopeful journey to seek a better life becomes a harrowing and primal fight for survival when a deranged, rifle-toting vigilante hunts a group of illegal migrants through the treacherous U.S.-Mexican border. In the harsh, unforgiving desert terrain, the odds are stacked firmly against them as they continuously discover there's nowhere to hide from the unrelenting, merciless killer. (Gary Reber)
Special features include commentary with Director/Co-Writer/Producer Jonas Cuaron, upfront previews, and an UltraViolet digital copy.
The 1.85:1 1080p AVC picture was photographed digitally entirely in vast-open desert terrain with remarkably natural imagery throughout. Sand, brush, cats, rock surfaces, and trees are all naturally hued. Overall, the color palette is fairly drab. Tracker, the German Shepherd's, brown coat contrasts with the otherwise desolate landscape. Fleshtones are natural throughout and nicely saturated. Contrast is excellent with the landscape below a scattered cloudy blue sky, as well as black levels, such as at nighttime. This is incredibly realistic. Resolution is excellent, with object and earth textures rendered with fine detail, as well as clothing and the worn faded-paint truck of the hunter. The desert visuals are spectacular and dramatically in scope. Filmed on location in Baja California. (Gary Reber)
The DTS-HD Master Audio™ 5.1-channel soundtrack is filled with perfectly realistic Foley sound effects, from Tracker's running to the footsteps on the desert floor and the rock formations. Every nuanced sound and atmospheric is precise. Rifle gunfire cracks and zips with startling accuracy and reverberation. The sonic effectively conveys a wide-open terrain. The music score is eerie and rhythmic, with a deep bass punch delivered with enhanced power via the .1 LFE channel. Atmospherics during sunset and the night, including the sound of wind, create a sense of hopeless isolation. The music is the sole source of surround envelopment but very effective. Dialogue is naturally rendered with good spatial integration and reverberation, both Spanish with subtitles and English. This is an intensely realistic soundtrack experience that perfectly complements the story. (Gary Reber)