BLU-RAY REVIEW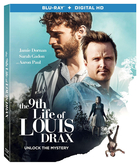 9th Life Of Louis Drax, The
Basic Information on new release titles is posted as soon as titles are announced. Once reviewed, additional data is added to the database.
(Studio/Distributor):
Lionsgate Home Entertainment
(Catalog Number):
51463
(MPAA Rating):
R
(Rating Reason):
Some disturbing images and brief strong language.
(Retail Price):
$$24.99
(Disc Type):
Single Side, Dual Layer (BD-50)
(Widescreen Edition):
Yes
(Full Screen Edition):
(Running Time In Minutes):
108
(Color Type):
Color
(Chaptered/Scene Access):
Yes
(Closed Captioned):
Yes
(Regional Coding):
A
(Theatrical Year):
(Theatrical Release):
Yes
(Direct-To-Video Release):
(Disc Release Date):
2/7/2017
(THX® Digitally Mastered):
(Director):
Alexandre Aja
(Screenplay/Written By):
(Story):
(Music):
(Director Of Photography):
(Production Designer):
(Visual Effects):
(Costume Designer):
(Editor):
(Supervising Sound Editors):
(Re-Recording Mixers):
(Executive Producers):
(Co-Producers):
(Producers):
(Academy Awards):
(Principal Photography):
(Theatrical Aspect Ratio):
(Measured Disc Aspect Ratio):
(Disc Soundtrack):
DTS HD Lossless 5.1
(Theatrical Sound):
(Theatrical Re-Issue Soundtrack):
(DTS Bit Rate):
(Dolby Digital Bit Rate):
(Additional Languages):
(Subtitles):
Based on the novel by Liz Jensen, The 9th Life Of Louis Drax is the story of Louis Drax (Longworth), who after surviving eight near-death accidents throughout his unlucky life, plunges off a steep cliff on his ninth birthday. While police investigate the cause of Louisís near-fatal fall and the whereabouts of his violent father (Paul), acclaimed neurologist Dr. Allan Pascal (Dornan) uses unorthodox techniques to try to tap into the boyís unconscious mind and reveal the truth about the events that led to his condition. But as heís drawn deeper and deeper into the mystery of Louisís seeming ability to cheat death, the doctor finds himself falling for Louisís mother, Natalie (Gordon). As new clues emerge in the case, a shocking revelation changes the fates of Louis Drax and everyone around him. (Gary Reber)
Special features include a making-of featurette (HD 02:46), upfront previews, and an UltraViolet digital copy.
The 2.37:1 1080p AVC picture exhibits a clean, pristine appearance sourced from a digital production. The color palette is pleasingly natural, with rich and warm hues highlighted with effective lighting in interior scenes. Exterior scenes are nicely bright and earthly toned. Flashbacks are at times stylized for effect. Colors are often vivid and saturated. A visual effects segment, while Dr. Pascal is under hypnosis, is wonderfully stylized. Fleshtones are naturally hued. Contrast is well balanced with deep blacks and revealing shadow delineation, with the exception of some very dark scenes. Resolution generally is good, especially with respect to facial features, hair, clothing, and object textures during close-ups. This is a really good-looking movie, with effective contrasts and pleasing colors. (Gary Reber)
The DTS-HD Master Audioô 5.1-channel soundtrack effectively heightens in energy and intensity during the more suspenseful segments, with aggressive surround envelopment. Atmospherics nicely enhance the sense of realistic settings. Sound effects are punctuated with deep .1 LFE bass, and the music often has a strong bass foundation. The music score is haunting and mood-inducing in feel, with a wide and deep soundstage that extends to the surrounds. Dialogue is intelligible throughout, with decent spatial integration, and Louisís mystery monster is well integrated as a voice. This is an effective soundtrack that delivers moments of dramatic intensity and compelling soundfield envelopment. (Gary Reber)