BLU-RAY REVIEW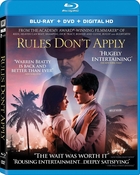 Rules Don't Apply
Basic Information on new release titles is posted as soon as titles are announced. Once reviewed, additional data is added to the database.
(Studio/Distributor):
20th Century Fox Home Entertainment
(Catalog Number):
2331613
(MPAA Rating):
PG-13
(Rating Reason):
Sexual material including brief strong language, thematic elements, and drug references.
(Retail Price):
$$19.96
(Disc Type):
Single Side, Dual Layer (BD-50)
(Widescreen Edition):
Yes
(Full Screen Edition):
(Running Time In Minutes):
127
(Color Type):
Color
(Chaptered/Scene Access):
Yes
(Closed Captioned):
Yes
(Regional Coding):
A
(Theatrical Year):
(Theatrical Release):
Yes
(Direct-To-Video Release):
(Disc Release Date):
2/28/2017
(THX® Digitally Mastered):
(Director):
Warren Beatty
(Screenplay/Written By):
(Story):
(Music):
(Director Of Photography):
(Production Designer):
(Visual Effects):
(Costume Designer):
(Editor):
(Supervising Sound Editors):
(Re-Recording Mixers):
(Executive Producers):
(Co-Producers):
(Producers):
(Academy Awards):
(Principal Photography):
(Theatrical Aspect Ratio):
(Measured Disc Aspect Ratio):
(Disc Soundtrack):
DTS HD Lossless 5.1
(Theatrical Sound):
(Theatrical Re-Issue Soundtrack):
(DTS Bit Rate):
(Dolby Digital Bit Rate):
(Additional Languages):
(Subtitles):
Rules Don't Apply takes place in Hollywood, 1958. An aspiring young actress, songwriter, beauty queen, and devout Baptist virgin, Marla Mabrey (Collins), and her young, ambitious, deeply religious Methodist chauffeur, Frank Forbes (Ehrenreich), both struggle with the absurd eccentricities of the wildly unpredictable billionaire they work for, Howard Hughes (Beatty). Their attraction to each other not only puts their religious convictions to the test but also defies Hughes' Number 1 rule: no employee is allowed to have any relationship whatsoever with a contract actress. Hughes' behavior draws them both deeper into his bizarre world, and their lives are changed. (Gary Reber)
Special features include the featurette This Is Rules Don't Apply (HD 21:30), the music video "The Rule Don't Apply" performed by Lily Collins (HD 02:19), gallery, upfront previews, and an UltraViolet digital copy.
The 1.85:1 1080p AVC picture is gorgeous and exhibits wonderful cinematography, captured by Caleb Deschanel using the Arri Alexa XT digital camera system. Colors are warm and rich throughout. Hues often pop with beautiful shadings. Fleshtones are perfectly natural. Contrast is excellent, with deep blacks and excellent shadow delineation. Production and lighting design are beautiful, especially in the interior settings. Night scenes are gorgeous as well. Resolution is superb, with fine detail evident throughout, which perfectly complements the wonderful visual presentation. This is a real looker, with convincing period settings and detail, which is absolutely captivating. This is reference-quality viewing that won't disappoint. (Gary Reber)
The DTS-HD Master Audio™ 5.1-channel soundtrack, while dialogue focused, has a terrific music score interspersed with classic songs from the period. Dialogue is consistently intelligible, with excellent spatial integration. The music delivers effective surround envelopment, as well as some outdoor scenes and a scene of Howard Hughes flying a twin engine airplane. This is a perfectly satisfying soundtrack. with excellent fidelity, and nicely complements the wonderful imagery. (Gary Reber)