BLU-RAY REVIEW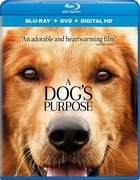 Dog's Purpose, A
Basic Information on new release titles is posted as soon as titles are announced. Once reviewed, additional data is added to the database.
(Studio/Distributor):
Universal Studios Home Entertainment
(Catalog Number):
61184389
(MPAA Rating):
PG
(Rating Reason):
Thematic elements and some peril.
(Retail Price):
$$34.98
(Disc Type):
Single Side, Dual Layer (BD-50)
(Widescreen Edition):
Yes
(Full Screen Edition):
(Running Time In Minutes):
100
(Color Type):
Color
(Chaptered/Scene Access):
Yes
(Closed Captioned):
Yes
(Regional Coding):
A
(Theatrical Year):
(Theatrical Release):
Yes
(Direct-To-Video Release):
(Disc Release Date):
5/2/2017
(THX® Digitally Mastered):
(Director):
Lasse Hallström
(Screenplay/Written By):
(Story):
(Music):
(Director Of Photography):
(Production Designer):
(Visual Effects):
(Costume Designer):
(Editor):
(Supervising Sound Editors):
(Re-Recording Mixers):
(Executive Producers):
(Co-Producers):
(Producers):
(Academy Awards):
(Principal Photography):
(Theatrical Aspect Ratio):
(Measured Disc Aspect Ratio):
(Disc Soundtrack):
DTS HD Lossless 5.1
(Theatrical Sound):
(Theatrical Re-Issue Soundtrack):
(DTS Bit Rate):
(Dolby Digital Bit Rate):
(Additional Languages):
(French Language):
(Spanish Language):
(Subtitles):
Based on the novel by W. Bruce Cameron, A Dog's Purpose is an uplifting and inspirational look at life through the eyes of man's best friend. This is a powerful journey, which experiences the relationship between dogs and their owners—to love, protect, comfort, and always find a way back home. The story shares the soulful and surprising lives of one devoted dog (voiced by Josh Gad, who finds the meaning of his own existence through the lives of the humans he teaches to laugh and love. (Gary Reber)
Special features include six deleted scenes (HD 09:24), outtakes (HD 02:11), the featurettes Light, Camera, Woof! (HD 08:46), and A Writer's Purpose (HD 04:44); upfront previews; and an UltraViolet digital copy.
The 2.39:1 1080p AVC picture is terrific, with a nicely balanced saturated color palette. Primaries are rich and warm, with strong hues that at times pop. The warm palette perfectly delivers a natural realism. Fleshtones are perfectly natural throughout. The countryside is rendered in absolutely natural earthtones, such as trees, greenery, and grass. Contrast is excellent with deep, solid blacks and shadows that are revealing of spatial depth. Resolution is quite good, especially in close-ups of the dogs, facial features, hair, clothing, uniforms, and object extras. This is a warmly natural visual experience with terrific imagery that is thoroughly engaging. (Gary Reber)
The DTS-HD Master Audio™ 5.1-channel soundtrack features a wonderful narration representing the dog voiced by Josh Gad, which is perfectly projected. All other dialogue is also perfectly intelligible and nicely integrated spatially. Atmospherics, such as a fair, and animals are realistic sounding, as well as the occasional sound effects. The music score has a light touch, which is a perfect compliment to the wonderful story. The music stretches wide across the soundstage and at times extends to the surrounds with a nice sense of envelopment. This is a terrific soundtrack that is warm and emotional, and sure to please. (Gary Reber)