BLU-RAY REVIEW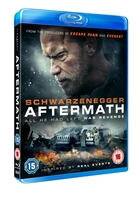 Aftermath
Basic Information on new release titles is posted as soon as titles are announced. Once reviewed, additional data is added to the database.
(Studio/Distributor):
Lionsgate Home Entertainment
(Catalog Number):
51926
(MPAA Rating):
R
(Rating Reason):
Scenes of violence.
(Retail Price):
$$24.99
(Disc Type):
Single Side, Dual Layer (BD-50)
(Widescreen Edition):
Yes
(Full Screen Edition):
(Running Time In Minutes):
94
(Color Type):
Color
(Chaptered/Scene Access):
Yes
(Closed Captioned):
Yes
(Regional Coding):
A
(Theatrical Year):
(Theatrical Release):
Yes
(Direct-To-Video Release):
(Disc Release Date):
6/6/2017
(THX® Digitally Mastered):
(Director):
Elliott Lester
(Screenplay/Written By):
(Story):
(Music):
(Director Of Photography):
(Production Designer):
(Visual Effects):
(Costume Designer):
(Editor):
(Supervising Sound Editors):
(Re-Recording Mixers):
(Executive Producers):
(Co-Producers):
(Producers):
(Academy Awards):
(Principal Photography):
(Theatrical Aspect Ratio):
(Measured Disc Aspect Ratio):
(Disc Soundtrack):
DTS HD Lossless 5.1
(Theatrical Sound):
(Theatrical Re-Issue Soundtrack):
(DTS Bit Rate):
(Dolby Digital Bit Rate):
(Additional Languages):
(Subtitles):
Aftermath is the gripping story of two lives forever bound by tragedy. Roman's (Schwarzenegger) life changes forever when he loses his wife and daughter in a plane crash. He attempts to move on from the tragedy but soon finds that he cannot face life without confronting Jake (McNairy), the air traffic controller responsible for the accident. (Gary Reber)
Special features include commentary with Director Elliott Lester and Producer Eric Watson, interviews with Lester and Director of Photography Pieter Vermeer (HD 07:24), a trailer, upfront previews, and an UltraViolet digital copy.
The 2.39:1 1080p AVC picture, reviewed on a Sony Bravia Z9D 4K Ultra HD HDR display, upconverted to 2160p with greater resolution and luminance, is impressively natural in appearance. The color palette is never exaggerated, and hues are rich and warm throughout. The wintery, snowy backdrop provides effective highlights, as well as generally overcast skies. The reflective jet airliner, with its white vapor trail, is nicely contrasted against pure blue skies. Fleshtones are perfectly natural throughout. Contrast is excellent, with ink-black fades separating major scene changes, which is impressive. Shadow delineation is excellent as well. Resolution is remarkably revealing of fine detail, especially during close-ups of facial lines on Schwarzenegger and others, his beard, hair, clothing, and object texture. This is a vividly exact visual experience that appears natural, with terrific cinematography. (Gary Reber)
The DTS-HD Master Audio™ 5.1-channel soundtrack is dialogue focused, with a quiet feel to the orchestral score that delivers a sad overtone and at times builds to intensity with strong .1 LFE bass extension and aggressive surround envelopment. Atmospherics are superb and nuanced throughout. Sound effects energize the soundtrack during flashbacks of the accident and associated memories. Dialogue is perfectly intelligible with good spatial integration. (Gary Reber)