BLU-RAY REVIEW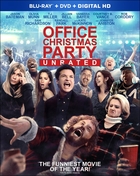 Office Christmas Party
Basic Information on new release titles is posted as soon as titles are announced. Once reviewed, additional data is added to the database.
(Studio/Distributor):
Paramount Home Entertainment
(Catalog Number):
2070283
(MPAA Rating):
R/Unrated
(Rating Reason):
Crude sexual content and language throughout, drug use, and graphic nudity (theatrical version).
(Retail Price):
$$39.99
(Disc Type):
Single Side, Dual Layer (BD-50)
(Widescreen Edition):
Yes
(Full Screen Edition):
(Running Time In Minutes):
105/110
(Color Type):
Color
(Chaptered/Scene Access):
Yes
(Closed Captioned):
Yes
(Regional Coding):
A
(Theatrical Year):
(Theatrical Release):
Yes
(Direct-To-Video Release):
(Disc Release Date):
4/4/2017
(THX® Digitally Mastered):
(Director):
Will Speck & Josh Gordon
(Screenplay/Written By):
(Story):
(Music):
(Director Of Photography):
(Production Designer):
(Visual Effects):
(Costume Designer):
(Editor):
(Supervising Sound Editors):
(Re-Recording Mixers):
(Executive Producers):
(Co-Producers):
(Producers):
(Academy Awards):
(Principal Photography):
(Theatrical Aspect Ratio):
(Measured Disc Aspect Ratio):
(Disc Soundtrack):
DTS HD Lossless 7.1
(Theatrical Sound):
(Theatrical Re-Issue Soundtrack):
(DTS Bit Rate):
(Dolby Digital Bit Rate):
(Additional Languages):
(French Language):
(Spanish Language):
(Subtitles):
In Office Christmas Party, an overbearing CEO (Aniston) decides to close her hard-partying brother's failing branch. But he (Miller) and his fired up co-workers (Bateman, Munn, McKinnon) decide to throw an epic office party to land a big shot client and save everyone's jobs. Fueled by booze and bad decisions, things quickly spiral out of control in one of the craziest nights of their lives. (Gary Reber)
Both the theatrical version (01:45:21) and the unrated version (01:50:47) are available. Special features include commentary by Directors Josh Gordon and Will Speck, the featurette Throwing An Office Christmas Party (HD 11:51), outtakes (HD 08:38), five deleted and extended scenes (HD 02:58), and an UltraViolet digital copy.
The 2.39:1 1080p AVC picture quality is decent but not great. Colors appear to be natural, with hues that are warm. Colors at times pop with strong primaries. Fleshtones are naturally rendered. Contrast is decent, with deep blacks and revealing shadow delineation. Close-ups of facial features, hair, clothing, and object textures are evident, but generally there is an overall softness to the imagery. Overall, the visual character is mediocre. (Gary Reber)
The DTS-HD Master Audio™ 7.1-channel soundtrack is dynamic sounding during the wild party scenes, with a driving music score that fills the soundfield and adds dimension. Yet, the surround field is not really prominent. Atmospherics are generally frontal focused. Sound effects are at times enhanced with deep .1 LFE bass. Dialogue is intelligible but wanting, often in spatial integration. Overall, the soundtrack is frontal focused with a music score that provides envelopment. (Gary Reber)