BLU-RAY REVIEW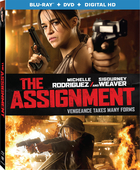 Assignment, The
Basic Information on new release titles is posted as soon as titles are announced. Once reviewed, additional data is added to the database.
(Studio/Distributor):
Lionsgate Home Entertainment
(Catalog Number):
52070
(MPAA Rating):
R
(Rating Reason):
Graphic nudity, violence, sexuality, language, and drug use.
(Retail Price):
$$24.99
(Disc Type):
Single Side, Dual Layer (BD-50)
(Widescreen Edition):
Yes
(Full Screen Edition):
(Running Time In Minutes):
98
(Color Type):
Color
(Chaptered/Scene Access):
Yes
(Closed Captioned):
Yes
(Regional Coding):
A
(Theatrical Year):
(Theatrical Release):
Yes
(Direct-To-Video Release):
(Disc Release Date):
6/6/2017
(THX® Digitally Mastered):
(Director):
Walter Hill
(Screenplay/Written By):
(Story):
(Music):
(Director Of Photography):
(Production Designer):
(Visual Effects):
(Costume Designer):
(Editor):
(Supervising Sound Editors):
(Re-Recording Mixers):
(Executive Producers):
(Co-Producers):
(Producers):
(Academy Awards):
(Principal Photography):
(Theatrical Aspect Ratio):
(Measured Disc Aspect Ratio):
(Disc Soundtrack):
DTS HD Lossless 5.1
(Theatrical Sound):
(Theatrical Re-Issue Soundtrack):
(DTS Bit Rate):
(Dolby Digital Bit Rate):
(Additional Languages):
(Subtitles):
Legendary Director Walter Hill gives the revenge movie a modern neo-noir twist with The Assignment. Hit man Frank Kitchen (Rodriguez) is given a lethal assignment, but after being double-crossed, he discovers he's not the man he thought he was––he's been surgically altered and now has the body of a woman. Seeking vengeance, Frank heads for a showdown with the person who transformed him, Dr. Rachel Kay (Weaver), a brilliant surgeon with a chilling agenda of her own. (Gary Reber)
Special features include the Filmmaking Portraits Photo Montage (HD 02:12), upfront previews, and an UltraViolet digital copy.
The 2.39:1 1080p AVC picture, reviewed on a Sony Bravia Z9D 4K Ultra HD HDR display, upconverted to 2160p with greater resolution and luminance, is wonderfully stylistic with two color gradings––one during a doctor examination of the surgeon in a quite-sterile room, and the other, the goings on outside in an earlier time period. The latter color palette is strongly saturated with vividly rich and warm hues. Some segments revert to black-and-white. The color segments are nicely engaging visually, with a terrific production design setting in San Francisco. Primaries really pop. Fleshtones are perfectly natural throughout. Contrast is excellent with deep, solid blacks and revealing shadow delineation. Resolution is superb, with fine detail revealed in facial features, hair, clothing, and object texture, especially fine in close-ups. This is a fantastic-looking picture, with engaging imagery throughout. (Gary Reber)
The DTS-HD Master Audio™ 5.1-channel soundtrack is engagingly dynamic with quiet, dialogue-focused segments contrasted with violent settings in which gunfire is prominent. Foley sound effects and atmospherics are completely realistic. Sound effects, such as gunfire, are realistic as well, enhanced with strong .1 LFE bass extension and transients. The music score is dynamic sounding, with a wide and deep soundstage that extends aggressively to the surrounds. Dialogue integration is excellent, at times spoken in Spanish, with English subtitles, and the brief narration is well positioned forward. This is a well-crafted soundtrack with segments of effective holosonic® envelopment. (Gary Reber)