BLU-RAY REVIEW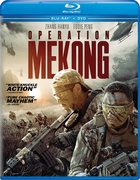 Operation Mekong
Basic Information on new release titles is posted as soon as titles are announced. Once reviewed, additional data is added to the database.
(Studio/Distributor):
Well Go USA
(Catalog Number):
WGU01805B
(MPAA Rating):
Not Rated
(Rating Reason):
(Retail Price):
$$29.98
(Disc Type):
Single Side, Dual Layer (BD-50)
(Widescreen Edition):
Yes
(Full Screen Edition):
(Running Time In Minutes):
124
(Color Type):
Color
(Chaptered/Scene Access):
Yes
(Closed Captioned):
Yes
(Regional Coding):
A
(Theatrical Year):
(Theatrical Release):
Yes
(Direct-To-Video Release):
(Disc Release Date):
6/6/2017
(THX® Digitally Mastered):
(Director):
Dante Lam
(Screenplay/Written By):
(Story):
(Music):
(Director Of Photography):
(Production Designer):
(Visual Effects):
(Costume Designer):
(Editor):
(Supervising Sound Editors):
(Re-Recording Mixers):
(Executive Producers):
(Co-Producers):
(Producers):
(Academy Awards):
(Principal Photography):
(Theatrical Aspect Ratio):
(Measured Disc Aspect Ratio):
(Disc Soundtrack):
DTS:X, DTS HD Lossless 7.1
(Theatrical Sound):
(Theatrical Re-Issue Soundtrack):
(DTS Bit Rate):
(Dolby Digital Bit Rate):
(Additional Languages):
(Subtitles):
(Mandarin Language):
In Operation Mekong, a band of elite narcotics officers are sent by the Chinese government to uncover the truth behind the ambush of two Chinese commercial vessels traveling down the Mekong River. When it's discovered the drugs seized from the ships had been planted by a notorious drug cartel, a multi-country joint task force is assembled to stop the criminals. The road to justice is, however, paved with dangerous and deadly obstacles. Inspired by the true story known as the Mekong Massacre. (Gary Reber)
Special features include a six-part, making-of featurette (HD 19:54), a trailer, and upfront previews.
The 2.39:1 1080p AVC picture, reviewed on a Sony Bravia Z9D 4K Ultra HD HDR display, was photographed at 2.8K using the Arri Alexa XT Plus and Red Epic Dragon camera systems and upscaled to 2160p with a digital intermediate 2K master format. The imagery is dynamic in appearance. Clarity and sharpness are excellent, though, the occasional stock footage degrades the appearance. Resolution is excellent, especially during close-ups of facial features, hair, clothing, and object textures, both interior and exterior. The color palette is quite diverse, with strong primaries in the reds and greens that real pop. The scene sowing the agriculture farms is soaked in bright greens. Other hues are rendered stylishly and offer a lot of eye candy in various elaborate production designs. Fleshtones generally retain naturalness throughout. Overall, this is a bright, vivid, and colorful picture with excellent contrast, black levels, shadow delineation, and resolution. (Gary Reber)
The DTS:X/DTS-HD Master Audio™ 7.1-channel soundtrack in Mandarin with English subtitles is loaded with violence and sound effects, with an aggressive directionalized surround presence that often is strongly energized. As well, atmospherics, even nuanced ones, deliver subtle surround envelopment. Gunfire is quite prevalent throughout. All throughout the action, dialogue retains clarity, but often the subtitles pass by too fast to read. The music score is positioned wide and deep and extends to the surrounds. Overall, this is a soundtrack full of mayhem, with an active holosonic® presence. (Gary Reber)