BLU-RAY REVIEW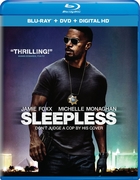 Sleepless
Basic Information on new release titles is posted as soon as titles are announced. Once reviewed, additional data is added to the database.
(Studio/Distributor):
Universal Studios Home Entertainment
(Catalog Number):
55177096
(MPAA Rating):
R
(Rating Reason):
Strong violence and language throughout.
(Retail Price):
$$34.98
(Disc Type):
Single Side, Dual Layer (BD-50)
(Widescreen Edition):
Yes
(Full Screen Edition):
(Running Time In Minutes):
96
(Color Type):
Color
(Chaptered/Scene Access):
Yes
(Closed Captioned):
Yes
(Regional Coding):
A
(Theatrical Year):
(Theatrical Release):
Yes
(Direct-To-Video Release):
(Disc Release Date):
4/18/2017
(THX® Digitally Mastered):
(Director):
Baran bo Odar
(Screenplay/Written By):
(Story):
(Music):
(Director Of Photography):
(Production Designer):
(Visual Effects):
(Costume Designer):
(Editor):
(Supervising Sound Editors):
(Re-Recording Mixers):
(Executive Producers):
(Co-Producers):
(Producers):
(Academy Awards):
(Principal Photography):
(Theatrical Aspect Ratio):
(Measured Disc Aspect Ratio):
(Disc Soundtrack):
DTS HD Lossless 5.1
(Theatrical Sound):
(Theatrical Re-Issue Soundtrack):
(DTS Bit Rate):
(Dolby Digital Bit Rate):
(Additional Languages):
(Subtitles):
In Sleepless, an undercover homicide detective seeks revenge on his son's kidnapping. Undercover police officer Vincent Downs (Foxx) thrives in the high stakes web of corrupt cops and the mob-controlled casino underground of Las Vegas. But when a heist goes wrong and a crew of homicidal gangsters kidnaps Downs' teenage son, he must evade an internal affairs investigation, rescue his son, and bring the kidnappers to justice all in one sleepless, pulse-pounding night. (Gary Reber)
Special features include a making-of featurette (HD 04:23), five deleted scenes (HD 05:19), upfront previews, and an UltraViolet digital copy.
The 2.40:1 Panavision® 1080p AVC picture is generally dark throughout and requires a display device with excellent native contrast and a dark viewing environment. Under such conditions, contrast is decent, with deep blacks, but shadow delineation is at times undefined. The dark imagery tends to mask fine detail, though, resolution is good during close-ups of facial features, hair, clothing, and object texture. The setting is Las Vegas at night on dimly lit streets and casino interiors. The color palette is well balanced with natural hues that occasionally pop. Production design is highly reliant on lighting effects. Fleshtones are naturally hued. Overall, this is a dark, yet effective appearance that works well with the tension energy of this thriller. (Gary Reber)
The DTS-HD Master Audio™ 5.1-channel soundtrack is rather intense and dynamic with a powerful music score grounded in deep .1 LFE bass extension. The music extends wide and deep, with an aggressive surround presence. Atmospherics effectively define the street and casino scenes with crowd noises and casino sounds, and sound effects are intense, as in vehicle crashes and fight scenes. Bass impact effectively enhances the action as well as the music. Sound effects, such as gunfire and machine gunfire, are aggressively directionalized. Dialogue is mostly intelligible, but there is at times a lot of high-energy sound that masks intelligibility. But spatial integration is generally decent. Overall, this is a thrill ride with a strong holosonic® enveloping presence and highly active channel energy. (Gary Reber)