BLU-RAY REVIEW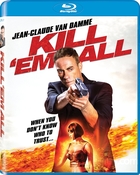 Kill 'Em All
Basic Information on new release titles is posted as soon as titles are announced. Once reviewed, additional data is added to the database.
(Studio/Distributor):
Sony Pictures Home Entertainment
(Catalog Number):
50635
(MPAA Rating):
R
(Rating Reason):
Violence and language.
(Retail Price):
$$25.99
(Disc Type):
Single Side, Dual Layer (BD-50)
(Widescreen Edition):
Yes
(Full Screen Edition):
(Running Time In Minutes):
95
(Color Type):
Color With B/W Sequences
(Chaptered/Scene Access):
Yes
(Closed Captioned):
Yes
(Regional Coding):
A, B, C
(Theatrical Year):
(Theatrical Release):
No
(Direct-To-Video Release):
Yes
(Disc Release Date):
6/6/2017
(THX® Digitally Mastered):
(Director):
Peter Malota
(Screenplay/Written By):
(Story):
(Music):
(Director Of Photography):
(Production Designer):
(Visual Effects):
(Costume Designer):
(Editor):
(Supervising Sound Editors):
(Re-Recording Mixers):
(Executive Producers):
(Co-Producers):
(Producers):
(Academy Awards):
(Principal Photography):
(Theatrical Aspect Ratio):
(Measured Disc Aspect Ratio):
(Disc Soundtrack):
DTS HD Lossless 5.1
(Theatrical Sound):
(Theatrical Re-Issue Soundtrack):
(DTS Bit Rate):
(Dolby Digital Bit Rate):
(Additional Languages):
(Subtitles):
Kill 'Em All follows a massive shootout when a mysterious stranger (Van Damme) arrives at a local hospital on the brink of death. Then, a foreign gang brazenly comes to the hospital to hunt him down. His nurse, the sole surviving witness to the follow-up shootout, must face an FBI interrogation that unlocks a plot of international intrigue and revenge. (Gary Reber)
Special features include upfront previews.
The 2.40:1 1080p AVC picture, reviewed on a Sony Bravia Z9D 4K Ultra HD HDR display, upscaled to 2160p with greater resolution and luminance, exhibits excellent contrast with bright highlights designed into the production. Deep blacks are excellent, and whites are brilliant. Shadow delineation also is excellent. The color palette is generally natural, with flashbacks appearing tinted and desaturated to contrast with the present. Hues are nicely saturated with strong primaries. Fleshtones are naturally hued throughout, Resolution is excellent, especially during close-ups of facial features, hair, clothing, and near-field object texture. This is a great-looking picture, with pristine clarity. (Gary Reber)
The DTS-HD Master Audio™ 5.1-channel soundtrack has an almost-continuous orchestral score that is spread wide across the soundstage with enveloping surround extension. Atmospherics are realistic, as well as Foley sound effects, which are often nuanced and realistic. Sound effects also are effectively strong, especially gunfire, which is quite prevalent. Deep bass accentuates the sound effects effectively but is overall reserved. Dialogue is nicely integrated spatially. While reserved in energized impact, this is a serviceable soundtrack. (Gary Reber)