BLU-RAY REVIEW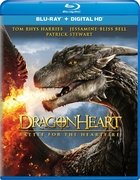 Dragonheart: Battle For The Heartfire
Basic Information on new release titles is posted as soon as titles are announced. Once reviewed, additional data is added to the database.
(Studio/Distributor):
Universal Studios Home Entertainment
(Catalog Number):
63187255
(MPAA Rating):
PG-13
(Rating Reason):
Violence
(Retail Price):
$$22.98
(Disc Type):
Single Side, Dual Layer (BD-50)
(Widescreen Edition):
Yes
(Full Screen Edition):
(Running Time In Minutes):
98
(Color Type):
Color
(Chaptered/Scene Access):
Yes
(Closed Captioned):
Yes
(Regional Coding):
A
(Theatrical Year):
(Theatrical Release):
Yes
(Direct-To-Video Release):
(Disc Release Date):
6/13/2017
(THX® Digitally Mastered):
(Director):
Patrik Syversen
(Screenplay/Written By):
(Story):
(Music):
(Director Of Photography):
(Production Designer):
(Visual Effects):
(Costume Designer):
(Editor):
(Supervising Sound Editors):
(Re-Recording Mixers):
(Executive Producers):
(Co-Producers):
(Producers):
(Academy Awards):
(Principal Photography):
(Theatrical Aspect Ratio):
(Measured Disc Aspect Ratio):
(Disc Soundtrack):
DTS HD Lossless 5.1
(Theatrical Sound):
(Theatrical Re-Issue Soundtrack):
(DTS Bit Rate):
(Dolby Digital Bit Rate):
(Additional Languages):
(Subtitles):
In the all-new epic action adventure Dragonheart: Battle For The Heartfire, Patrick Stewart stars as the voice of the dragon, Drago, who became bonded with King Gareth. When the king dies, his potential heirs, grandchildren who possess the dragon's unique strengths, use their inherited powers against each other to vie for the throne. When Drago's source of power—known as the Heartfire—is stolen, more than the throne is at stake; the siblings must end their rivalry with swords and sorcery or the kingdom may fall. (Gary Reber)
Special features include a making-of featurette (HD 04:53) and the featurettes The Magic Behind Drago (HD 04:37) and Inside The Castle (HD 03:41), upfront previews, and an UltraViolet digital copy.
The 1.78:1 1080p AVC picture, reviewed on a Sony Bravia Z9D 4K Ultra HD HDR display, upscaled to 2160p with greater resolution and luminance, was digitally photographed such that visual vibrancy is lacking. The color palette is earthy in hues with castle grays and greenery backdrops. Distinguished are the bluish attire of the King's army. Orange fire offers highlights to otherwise drab hues. Fleshtones appear a bit pale. Contrast is decent, with satisfying blacks and shadow delineating. Resolution is decent as well, but not distinguished. Though Drago's scaly exterior is effectively detailed, other imagery is not as detailed in comparison. Overall, the imagery fails to convey a cinematic visual experience. (Gary Reber)
The DTS-HD Master Audio™ 5.1-channel soundtrack is rather undistinguished, sounding "produced." While there is .1 LFE energy, it seems restrained, even during battle scenes, though, metal armor and swords clank and combatants clash with effect, though not enough to feel the intensity of battle. A rainstorm sounds powerful. Atmospherics are generally effective, at times light and other times more pronounced. The music score is decently presented with a wide soundstage that extends to the surrounds, to provide aggressive surround. Dialogue is decently integrated spatially, though, at times with a slight unnatural bass enhancement, and the voice of Drago is delivered strongly. Overall, this is a decent but undistinguished soundtrack that is serviceable. (Gary Reber)