BLU-RAY REVIEW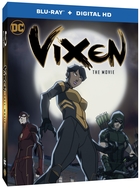 VIXEN: The Movie
Basic Information on new release titles is posted as soon as titles are announced. Once reviewed, additional data is added to the database.
(Studio/Distributor):
Warner Home Video
(Catalog Number):
3000071643
(MPAA Rating):
Not Rated
(Rating Reason):
(Retail Price):
$$19.98
(Disc Type):
Single Side, Dual Layer (BD-50)
(Widescreen Edition):
Yes
(Full Screen Edition):
(Running Time In Minutes):
75
(Color Type):
Color
(Chaptered/Scene Access):
Yes
(Closed Captioned):
Yes
(Regional Coding):
A
(Theatrical Year):
(Theatrical Release):
No
(Direct-To-Video Release):
Yes
(Disc Release Date):
5/23/2017
(THX® Digitally Mastered):
(Director):
James Tucker & Curt Geda
(Screenplay/Written By):
(Story):
(Music):
(Director Of Photography):
(Production Designer):
(Visual Effects):
(Costume Designer):
(Editor):
(Supervising Sound Editors):
(Re-Recording Mixers):
(Executive Producers):
(Co-Producers):
(Producers):
(Academy Awards):
(Principal Photography):
(Theatrical Aspect Ratio):
(Measured Disc Aspect Ratio):
(Disc Soundtrack):
DTS HD Lossless 5.1
(Theatrical Sound):
(Theatrical Re-Issue Soundtrack):
(DTS Bit Rate):
(Dolby Digital Bit Rate):
(Additional Languages):
(Subtitles):
Originally a TV movie, VIXEN: The Movie combines the first two seasons of the CW Seed digital series into a single unified story. (Gary Reber)
Special features include the featurettes Vixen: Spirit Animal (HD 06:13), Bruce Timm's Top Picks: Episodes from Justice League Unlimited, Hunter's Moon (HD 23:09), and Grudge Match (HD 22:53); and an UltraViolet digital copy.
The 1.78:1 1080p AVC picture, reviewed on a Sony Bravia Z9D 4K Ultra HD HDR display, upscaled to 2160p with greater resolution and luminance, is quite striking and stylized with a barebones, simplistic comic book animated rendering. The animated outlines and color palette are nicely rendered. The color palette features bright hues, especially in the rendering of superhero costumes and the execution of their powers. Fleshtones are effectively rendered with variations, depending on characters. Contrast is excellent with deep, solid blacks. Resolution is excellent as it relates to the crisp and defined line drawing of the animation. This is a very colorful animated feature with satisfying blacks and excellent sharpness and clarity. (Gary Reber)
The DTS-HD Master Audio™ 5.1-channel soundtrack is effective in the presentation of dialogue and sound effects, which are intensified when the villains strike and the heros defend. Sound effects are aggressively directionalized. Bass extension is quite strong in the .1 LFE channel. Other than the sound effects, there is really no ambiance cues to speak of. Dialogue is reasonably integrated spatially but in an ADR vacuum. The music score by Nathaniel Blume and Blake Neely is aggressive and spread wide and deep, extending to the surrounds. Overall, this is high-energy soundtrack, but dialogue is rather sterile. (Gary Reber)