BLU-RAY REVIEW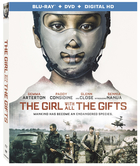 Girl With All The Gifts, The
Basic Information on new release titles is posted as soon as titles are announced. Once reviewed, additional data is added to the database.
(Studio/Distributor):
Lionsgate Home Entertainment
(Catalog Number):
51862
(MPAA Rating):
R
(Rating Reason):
Disturbing violence/bloody images, and language.
(Retail Price):
$$24.99
(Disc Type):
Single Side, Dual Layer (BD-50)
(Widescreen Edition):
Yes
(Full Screen Edition):
(Running Time In Minutes):
111
(Color Type):
Color
(Chaptered/Scene Access):
Yes
(Closed Captioned):
Yes
(Regional Coding):
A
(Theatrical Year):
(Theatrical Release):
Yes
(Direct-To-Video Release):
(Disc Release Date):
4/25/2017
(THX® Digitally Mastered):
(Director):
Colm McCarthy
(Screenplay/Written By):
(Story):
(Music):
(Director Of Photography):
(Production Designer):
(Visual Effects):
(Costume Designer):
(Editor):
(Supervising Sound Editors):
(Re-Recording Mixers):
(Executive Producers):
(Co-Producers):
(Producers):
(Academy Awards):
(Principal Photography):
(Theatrical Aspect Ratio):
(Measured Disc Aspect Ratio):
(Disc Soundtrack):
DTS HD Lossless 5.1
(Theatrical Sound):
(Theatrical Re-Issue Soundtrack):
(DTS Bit Rate):
(Dolby Digital Bit Rate):
(Additional Languages):
(Subtitles):
The Girl With All The Gifts tells of a future dystopia after the outbreak of an unprecedented plague in this post-apocalyptic zombie thriller. Humanity has been all but destroyed by a fungal disease that eradicates free will and turns its victims into flesh-eating "hungries." Only a small group of children seems immune to its effects. At an army base in rural England, these unique children are being studied and subjected to cruel experiments. When the base falls, one little girl escapes and must discover what she is, ultimately deciding both her own future and that of the human race. (Gary Reber)
Special features include the featurette Unwrap The Secret World Of The Girl With All The Gifts (HD 20:44), upfront previews, and an UltraViolet digital copy.
The 2.00:1 1080p AVC picture exhibits a large amount of dark, dimly lit scenes of a military installation and urban spaces, interspersed with overcast daylight in a forested area along a river. Viewing in a dark environment is essential to realize shadow definition. Outdoor scenes in the light are horrific in the facial and ragged clothing detail of the "hungries" that have formed groups in an animated suspension. The color palette is naturally hued in the delight scenes but subdued in the darker scenes. Contrast is decent, with deep blacks, but at times shadow delineation is wanting. Resolution is mostly quite respectful, but some scenes appear to be soft. Overall, this is an effectively haunting and terrifying picture. (Gary Reber)
The DTS-HD Master Audio™ 5.1-channel soundtrack features a dynamic music score that fully energizes the soundfield, a strong surround envelopment, and as well nuanced sonics that enhance the creepiness and mystery. When fully energized, deep bass acts as a strong foundation supported by .1 LFE bass. Atmospherics and Foley effects are often nuanced and effectively complementary to defining the sonics of the production design. Sound effects such as engines, machine-gun fire, and the roar of fire are at times aggressively directionalized in the soundstage and surrounds. Dialogue is intelligible throughout, with decent spatial integration. (Gary Reber)