BLU-RAY REVIEW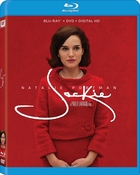 Jackie
Basic Information on new release titles is posted as soon as titles are announced. Once reviewed, additional data is added to the database.
(Studio/Distributor):
20th Century Fox Home Entertainment
(Catalog Number):
2335201
(MPAA Rating):
R
(Rating Reason):
Brief strong violence and some language.
(Retail Price):
$$39.99
(Disc Type):
Single Side, Dual Layer (BD-50)
(Widescreen Edition):
Yes
(Full Screen Edition):
(Running Time In Minutes):
100
(Color Type):
Color
(Chaptered/Scene Access):
Yes
(Closed Captioned):
Yes
(Regional Coding):
A
(Theatrical Year):
(Theatrical Release):
Yes
(Direct-To-Video Release):
(Disc Release Date):
3/7/2017
(THX® Digitally Mastered):
(Director):
Pablo Larrain
(Screenplay/Written By):
(Story):
(Music):
(Director Of Photography):
(Production Designer):
(Visual Effects):
(Costume Designer):
(Editor):
(Supervising Sound Editors):
(Re-Recording Mixers):
(Executive Producers):
(Co-Producers):
(Producers):
(Academy Awards):
(Principal Photography):
(Theatrical Aspect Ratio):
(Measured Disc Aspect Ratio):
(Disc Soundtrack):
DTS HD Lossless 5.1
(Theatrical Sound):
(Theatrical Re-Issue Soundtrack):
(DTS Bit Rate):
(Dolby Digital Bit Rate):
(Additional Languages):
(French Language):
(Spanish Language):
(Subtitles):
Academy Award® winner Natalie Portman stars as First Lady Jacqueline Kennedy. As she grapples with unimaginable grief and trauma following President John. F. Kennedy's assassination, Jackie through her faith and strength, is lead to a new life with her children. While she honors her husband's remarkable legacy, she also leaves her own indelible mark. (Gary Reber)
Special features include commentary by Director Pablo Larrain and Actress Natalie Portman, the featurette From Jackie To Camelot (HD 22:25), a gallery, the theatrical trailer, upfront previews, and an UltraViolet digital copy.
The 1.78:1 1080p AVC picture was photographed on Kodak Vision3 film stock in the Super 16 format, to create the feel of a period piece. Even what should have been actual documentary footage was shot on 16 mm and processed in grain-saturated, black-and-white, which casts a newsreel feel to the proceedings. The color palette varies a bit, depending on the scene, from nicely saturated, vivid hues and more subdued hues, but always eliciting a natural feel. Reds, in particular, draw attention. Fleshtones are naturally hued. Resolution is generally soft, but at times fine detail is revealing. While some graininess and fuzziness is to be expected of the 16-mm source, none is objectionable or distracting. Overall, this is an engaging visual experience that effectively captures this sad history. (Gary Reber)
The DTS-HD Master Audio™ 5.1-channel soundtrack projects a sad piano and string orchestral music score that is at times quite forward sounding, yet nicely recorded with an aggressive surround presence. Dialogue is the focus and unfortunately unnaturally forward sounding, with obviously no attempt at realistic spatial integration. Often, the sound is isolated to the center channel, such as in quieter dialogue moments. Atmospherics, such as ambient environmental sounds, are effective during scenes with crowds and outdoors. Sound effects are limited. Overall, in numerous ways this is an over-produced soundtrack, though, fidelity is good, and there are some brief moments of other-than-music surround envelopment. (Gary Reber)