BLU-RAY REVIEW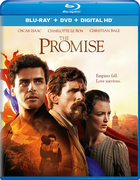 Promise, The
Basic Information on new release titles is posted as soon as titles are announced. Once reviewed, additional data is added to the database.
(Studio/Distributor):
Universal Studios Home Entertainment
(Catalog Number):
55187466000
(MPAA Rating):
PG-13
(Rating Reason):
Thematic material including war atrocities, violence and disturbing images, and for some sexuality.
(Retail Price):
$$34.98
(Disc Type):
Single Side, Dual Layer (BD-50)
(Widescreen Edition):
Yes
(Full Screen Edition):
(Running Time In Minutes):
134
(Color Type):
Color
(Chaptered/Scene Access):
Yes
(Closed Captioned):
Yes
(Regional Coding):
A
(Theatrical Year):
(Theatrical Release):
Yes
(Direct-To-Video Release):
(Disc Release Date):
7/18/2017
(THX® Digitally Mastered):
(Director):
Terry George
(Screenplay/Written By):
(Story):
(Music):
(Director Of Photography):
(Production Designer):
(Visual Effects):
(Costume Designer):
(Editor):
(Supervising Sound Editors):
(Re-Recording Mixers):
(Executive Producers):
(Co-Producers):
(Producers):
(Academy Awards):
(Principal Photography):
(Theatrical Aspect Ratio):
(Measured Disc Aspect Ratio):
(Disc Soundtrack):
DTS HD Lossless 7.1
(Theatrical Sound):
(Theatrical Re-Issue Soundtrack):
(DTS Bit Rate):
(Dolby Digital Bit Rate):
(Additional Languages):
(Subtitles):
Inspired by true events, the extraordinary story of The Promise is set amidst the chaos of war. Sparks fly when a humble Armenian medical student (Isaac) falls in love with an artist (Le Bon) already committed to a renewed and worldly journalist (Bale). But as tensions rise with the outbreak of World War I, the trio must set passions aside to survive as the world around them crumbles and one of history's darkest yet rarely told chapters unfold before their eyes. (Gary Reber)
Special features include commentary with Director Terry George and Producer Eric Esrailian; three deleted scenes with commentary by Director George (HD 06:13); the featurettes The Love Story (HD 02;36), War And Struggle (HD 02:51), and A Cause (HD 03:19); upfront previews; and an UltraViolet digital copy.
The 2.39:1 1080p AVC picture, reviewed on a Sony Bravia Z9D 4K Ultra HD HDR display, upscaled to 2160p with greater resolution and luminance, and a digital intermediate 3.4K master format, is spectacular. This is an epic production with impressive production design elements and cinematography. Stylized, yet realistic throughout, the imagery is hauntingly beautiful. The color palette is naturally rendered throughout with warm and rich hues. Fleshtones are natural as well, Contrast is well balanced with deep blacks and revealing shadow delineation. There are incredibly beautiful scenes throughout, all diverse. Resolution is excellent, as well as sharpness and clarity. Fine detail is revealing in facial features, hair, beards, clothing, and object textures, which are abundant. This is a very cinematic and epic visual experience with a wonderful natural quality. (Gary Reber)
The DTS-HD Master Audio™ 7.1-channel soundtrack is quite dynamic, with powerful segments balanced with nuanced touches. The orchestral and choral score, which is nicely recorded with a wide and deep soundstage, nicely weaves the epic storytelling together. Atmospherics are realistic and often nuanced, and Foley sound effects enhance the sense of realism to match the picture. Sound effects are often very powerful, such as a scene of a nighttime thunder storm and rail cars filled with desperate people, numerous explosions, and gunfire and artillery. Deep bass is at times energized to sub-25 Hz levels and provides a full-bodied foundation to the soundtrack. The added two surround channels really expand the soundfield and provide enhanced spatial dimension. Surround envelopment is at times aggressive. Dialogue is really the focus and is delved with excellent intelligibility and spatial integration. This is a wonderful holosonic® soundtrack and is sweeping in its diverse presentation. (Gary Reber)