BLU-RAY REVIEW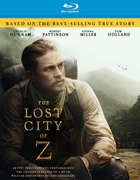 Lost City Of Z, The
Basic Information on new release titles is posted as soon as titles are announced. Once reviewed, additional data is added to the database.
(Studio/Distributor):
Broad Green Pictures
(Catalog Number):
94189301
(MPAA Rating):
PG-13
(Rating Reason):
Violence, disturbing images, brief strong language and some nudity.
(Retail Price):
$$34.99
(Disc Type):
Single Side, Dual Layer (BD-50)
(Widescreen Edition):
Yes
(Full Screen Edition):
(Running Time In Minutes):
140
(Color Type):
Color
(Chaptered/Scene Access):
Yes
(Closed Captioned):
Yes
(Regional Coding):
A
(Theatrical Year):
(Theatrical Release):
Yes
(Direct-To-Video Release):
(Disc Release Date):
7/11/2017
(THX® Digitally Mastered):
(Director):
James Gray
(Screenplay/Written By):
(Story):
(Music):
(Director Of Photography):
(Production Designer):
(Visual Effects):
(Costume Designer):
(Editor):
(Supervising Sound Editors):
(Re-Recording Mixers):
(Executive Producers):
(Co-Producers):
(Producers):
(Academy Awards):
(Principal Photography):
(Theatrical Aspect Ratio):
(Measured Disc Aspect Ratio):
(Disc Soundtrack):
DTS HD Lossless 5.1
(Theatrical Sound):
(Theatrical Re-Issue Soundtrack):
(DTS Bit Rate):
(Dolby Digital Bit Rate):
(Additional Languages):
(Spanish Language):
(Subtitles):
Based on the novel by David Grann, The Lost City Of Z tells the incredible true story of British Explorer Percy Fawcett (Hunnam), who journeys into the Amazon at the dawn of the 20th century and discovers evidence of a previously unknown, advanced civilization. Supported by his devoted wife (Miller), son (Holland), and aide-de-camp (Pattinson), Fawcett returns time and again to his beloved jungle in search of the lost city. What he discovered became legendary. (Gary Reber)
Special features include commentary by Director James Gray; the featurettes Adventure In The Jungle (HD 02:21), From Novel To Screen (HD 03:10), and Expedition Journal (HD 01:29); and an upfront preview.
The 2.39:1 1080p AVC picture, reviewed on a Sony Bravia Z9D 4K Ultra HD HDR display, was photographed on Kodak Vision3 film stock using the Arricam LT and ST camera systems in Panavision and upscaled to 2160p with greater resolution and luminance, with a digital intermediate 4K master format. Image quality is impressive with no objectionable film grains. The imagery is very stylized, effectively using color filtering to create a period look. The color palette exhibits warm and rich saturated hues throughout. The Amazon jungles are graded with strong greens and other earthy hues. Back in Ireland and England the imagery is stylized through nature and low-lighting effects. Colors are warmer with highlighted hues, Fleshtones are perfectly natural. Contrast is well balanced with deep blacks and excellent shadow delineation. Clarity and sharpness, as well as resolution, is excellent. Fine detail is rendered throughout in jungle textures, from foliage to trees to villages. The Ireland and English scenes exhibit fine detail in interiors, clothes, hair, and facial features. Detail is superb throughout, This is truly an epic visual experience with contrasting worlds that are absolutely engaging and striking, This is a stylishly gorgeous, reference-quality picture experience throughout. (Gary Reber)
The DTS-HD Master Audio™ 5.1-channel soundtrack is wonderfully dynamic sounding with impressive atmospherics and sound effects that define the soundscapes of two worlds. Both sonic worlds deliver an abundance of holosonic® surround envelopment. The Ireland and British scenes are far more nuanced but effective, except for the forward dialogue that lacks natural spatial integration. The jungle scenes are far more energized with a raging river and intense rainstorms. All sorts of insect noises also provide an abundance of directional surround. The war scene provides battle sound effects, such as explosions and artillery, which are also quite dynamic sounding. Deep bass extension is at times powerful and enhanced with .1 LFE sub-25 Hz energy. The orchestral score, while a more background sound element, is wonderful and well recorded with a wide and deep soundstage that extends to surrounds. Dialogue, while intelligible throughout, is inconsistent in terms of natural spatial integration. This is an extremely well-executed soundtrack with an epic holosonic impression. This is an impressive reference-quality soundtrack that perfectly complements this epic adventure. (Gary Reber)