BLU-RAY REVIEW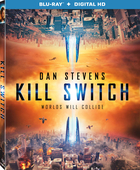 Kill Switch
Basic Information on new release titles is posted as soon as titles are announced. Once reviewed, additional data is added to the database.
(Studio/Distributor):
Lionsgate Home Entertainment
(Catalog Number):
52365
(MPAA Rating):
R
(Rating Reason):
Language and some violence.
(Retail Price):
$$24.99
(Disc Type):
Single Side, Dual Layer (BD-50)
(Widescreen Edition):
Yes
(Full Screen Edition):
(Running Time In Minutes):
92
(Color Type):
Color
(Chaptered/Scene Access):
Yes
(Closed Captioned):
Yes
(Regional Coding):
A
(Theatrical Year):
(Theatrical Release):
Yes
(Direct-To-Video Release):
(Disc Release Date):
8/22/2017
(THX® Digitally Mastered):
(Director):
Tim Smit
(Screenplay/Written By):
(Story):
(Music):
(Director Of Photography):
(Production Designer):
(Visual Effects):
(Costume Designer):
(Editor):
(Supervising Sound Editors):
(Re-Recording Mixers):
(Executive Producers):
(Co-Producers):
(Producers):
(Academy Awards):
(Principal Photography):
(Theatrical Aspect Ratio):
(Measured Disc Aspect Ratio):
(Disc Soundtrack):
DTS HD Lossless 5.1
(Theatrical Sound):
(Theatrical Re-Issue Soundtrack):
(DTS Bit Rate):
(Dolby Digital Bit Rate):
(Additional Languages):
(Subtitles):
In Kill Switch, worlds collide when a pilot battles to save his family and the earth after an experiment for unlimited energy goes wrong. In the future world, a physicist's experiment to harness unlimited energy falters. Chased by drones and soldiers, Will Porter (Stevens) must race through an imploding world and retrieve the Redivider box to save his family––and all of humanity. (Gary Reber)
Special features include commentary with Director Tim Smit, the featurette The Visual Effect: Inside The Director's Process (HD 04:51), upfront previews, and an UltraViolet digital copy.
The 2.39:1 1080p AVC picture, reviewed on a Sony Bravia Z9D 4K Ultra HD HDR display, upscaled to 2160p with greater resolution and luminance, was digitally sourced. The imagery is sharp and clear with excellent resolution throughout, especially during close-ups. Much of the digital camera work is hand-held and a bit shaky. The color palette exhibits a bluish tint. Otherwise, hues are generally natural with a cool finish. Reds are strongly hued as highlights. Contrast is good, with deep blacks and bight highlights with revealing shadow delineation. Overall, this is an engaging sci-fi picture that emphasizes technology. (Gary Reber)
The DTS-HD Master Audio™ 5.1-channel soundtrack is dynamic sounding, with intense explosions that energize the .LFE channel at sub-25 Hz frequencies. The music score is synthesized and effectively haunting. Dialogue narration is well positioned with a frontal focus. Normal dialogue is intelligible throughout, with good spatial integration. Atmospherics and Foley sound effects are nicely supportive. Sound effects consist of explosions, thunder, drones, gunfire, vehicles, etc., all convincingly effective. Overall, this is a nicely complementary soundtrack to the picture. (Gary Reber)