BLU-RAY REVIEW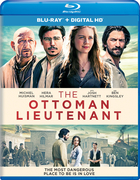 Ottoman Lieutenant, The
Basic Information on new release titles is posted as soon as titles are announced. Once reviewed, additional data is added to the database.
(Studio/Distributor):
Universal Studios Home Entertainment
(Catalog Number):
61188843
(MPAA Rating):
R
(Rating Reason):
Some war violence.
(Retail Price):
$$26.98
(Disc Type):
Single Side, Dual Layer (BD-50)
(Widescreen Edition):
Yes
(Full Screen Edition):
(Running Time In Minutes):
106
(Color Type):
Color
(Chaptered/Scene Access):
Yes
(Closed Captioned):
Yes
(Regional Coding):
A
(Theatrical Year):
(Theatrical Release):
Yes
(Direct-To-Video Release):
(Disc Release Date):
8/1/2017
(THX® Digitally Mastered):
(Director):
Joseph Ruben
(Screenplay/Written By):
(Story):
(Music):
(Director Of Photography):
(Production Designer):
(Visual Effects):
(Costume Designer):
(Editor):
(Supervising Sound Editors):
(Re-Recording Mixers):
(Executive Producers):
(Co-Producers):
(Producers):
(Academy Awards):
(Principal Photography):
(Theatrical Aspect Ratio):
(Measured Disc Aspect Ratio):
(Disc Soundtrack):
DTS HD Lossless 5.1
(Theatrical Sound):
(Theatrical Re-Issue Soundtrack):
(DTS Bit Rate):
(Dolby Digital Bit Rate):
(Additional Languages):
(French Language):
(Spanish Language):
(Subtitles):
(Italian Language):
Bringing to life a little known chapter in World War I history, the extraordinary and powerful story The Ottoman Lieutenant explores the eastern front of the war. This is a story of the sweeping romance about a love that has no cultural boundaries set amidst the exotic and dangerous Ottoman Empire. The story follows a strong-willed American woman (Hilmar) who, frustrated by ongoing injustices at home, follows an American doctor (Hartnett) to a medical mission in the exotic Ottoman Empire. However, her loyalty to both the doctor and the mission's founder (Kingsley) is soon tested when she falls in love with Ismail (Huisman), a lieutenant in the Ottoman Imperial Army. With the invading army forces at their doorstep and the world about to plunge into war, she soon realizes that the most dangerous place to be during war, is in love. (Gary Reber)
Special features include upfront previews and a digital copy.
The 2.38:1 1080p AVC picture, reviewed on a Sony Bravia Z9D 4K Ultra HD HDR display, upscaled to 2160p with greater resolution and luminance, was sourced from a digital master. This is an exceptionally beautiful picture with impressive cinematography. The imagery is sharp and clear with an epic filmic appearance. Interspersed there are segments of black-and-white historical footage of the war. The color palette is natural throughout with warm, rich hues. There is nothing exaggerated. Colors range from military dress hues to clothing of all matter against a background of earthy hues. Fleshtones are perfectly natural. Contrast is well balanced throughout with deep blacks and revealing shadow delineation. Some scenes are breathtaking in contrast with impressive brightness. Resolution is excellent throughout. Fine detail is exhibited in facial features, hair, clothing, and uniforms, and all manner of object textures, which includes structures, rough stone, wood facing, and earthy terrain that abound throughout. This is a gorgeous image that is effectively engaging, with a reference presentation. (Gary Reber)
The DTS-HD Master Audioô 5.1-channel soundtrack is relatively quiet, given scenes that would suggest otherwise. All through, there is an orchestral music score that suspends in the background and extends lightly into the surrounds. Atmospherics and Foley sound effects are nicely produced and effective. Sound effects never quite deliver the intensity expected, such as during a rainstorm, a train journey, or during action scenes involving gunfire. Thus, surround energy is rather reserved throughout. Dialogue is consistently intelligible, with good spatial delineation. Overall, fidelity is good, but the soundtrack lacks a sense of dynamic
energy. (Gary Reber)