BLU-RAY REVIEW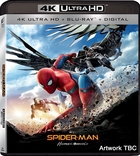 Spider-Man: Homecoming 4K Ultra HD
Basic Information on new release titles is posted as soon as titles are announced. Once reviewed, additional data is added to the database.
(Studio/Distributor):
Sony Pictures Home Entertainment
(Catalog Number):
48876
(MPAA Rating):
PG-13
(Rating Reason):
Sci-fi action violence, some language and brief suggestive comments.
(Retail Price):
$$45.99
(Disc Type):
BD-66
(Widescreen Edition):
Yes
(Full Screen Edition):
(Running Time In Minutes):
133
(Color Type):
Color
(Chaptered/Scene Access):
Yes
(Closed Captioned):
Yes
(Regional Coding):
A, B, C
(Theatrical Year):
(Theatrical Release):
Yes
(Direct-To-Video Release):
(Disc Release Date):
10/17/2017
(THX® Digitally Mastered):
(Director):
Jon Watts
(Screenplay/Written By):
(Story):
(Music):
(Director Of Photography):
(Production Designer):
(Visual Effects):
(Costume Designer):
(Editor):
(Supervising Sound Editors):
(Re-Recording Mixers):
(Executive Producers):
(Co-Producers):
(Producers):
(Academy Awards):
(Principal Photography):
(Theatrical Aspect Ratio):
(Measured Disc Aspect Ratio):
(Disc Soundtrack):
Dolby Atmos, Dolby TrueHD 7.1
(Theatrical Sound):
(Theatrical Re-Issue Soundtrack):
(DTS Bit Rate):
(Dolby Digital Bit Rate):
(Additional Languages):
(French Language):
(Spanish Language):
(Subtitles):
In Spider-Man: Homecoming, Peter Parker (Holland), who with the help of his mentor Tony Stark (Downey, Jr.), tries to balance his life as an ordinary high school student in New York City while fighting crime as his superhero alter ego Spider-Man. Living with his Aunt May (Tomei), Peter tries to fall back into his normal daily routineódistracted by the thought of proving himself to be more than just our friendly neighborhood Spider-Manóbut when the Vulture (Keaton) emerges as a new villain, everything that Peter holds most important will be threatened. Based on the Marvel Comic Book by Stan Lee and Steve Ditko. (Gary Reber)
Special features include The Spidey Study Guide and photo gallery; and on the Blu-ray Disc, 10 deleted and extended scenes (HD 16:17); a gag reel (HD 02:17); seven featurettes: A Tangled Web (HD 06:11), Searching For Spider-Man (HD 08:04), Spidey Stunts (HD 05:48), Aftermath (HD 04:47), The Vulture Takes Flight (HD 06:01), Jon Watts: Head Of The Class (HD 05:29), and Pros And Cons Of Spider-Man (HD 03:28); Rappin' With Cap: Captain America PSAs (HD 02:26); a photo gallery; trailers; upfront previews; and an UltraViolet digital copy.
The 2:39:1 2160p HEVC/H.265 4K Ultra HD HDR-10 picture was photographed digitally using the Arri Alexa Mini and Arri Alexa XT Plus camera systems with a resolution of 2.5K and a master format Digital Intermediate at 2K (not 4K). As the 2K Digital Intermediate has been unconverted to 2160p, there is no real gain in native resolution. Still, the picture is amazing! Sharpness and clarity are exemplary throughout. Resolution is absolutely incredible, with the finest details perfectly resolved. Visible is the finely textured fabric of Spider-Man's powered suit as well as the fabric composition of other clothing. Object detail also is excellent, revealing material compositions. Facial features, skin pores, and hair strands are finely resolved. Hours could be spent on examining the degree of detail in each scene. The color palette exhibits a wide color gamete, with vivid primaries and secondary hues, for an impressive color presentation. Also HDR effectively enhances the range of contrast with bright white highlights as well as other more colorful highlights and deep, extended black and revealing shadow delineation. This creates a greater sense of realism. The ending scene depicting an aircraft crash and subsequent firestorm with puffs of blackish gray smoke really shows the worth of HDR and a wide color gamut. Spatial dimensionality is also excellent, further enhancing the sense of realism. Fleshtones are also perfectly articulated throughout. This is an exemplary picture that is reference quality throughout. Spider-Man fans will be mesmerized by the image quality. (Gary Reber)