BLU-RAY REVIEW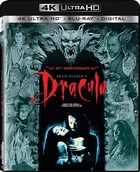 Bram Stoker's Dracula 4K Ultra HD
Basic Information on new release titles is posted as soon as titles are announced. Once reviewed, additional data is added to the database.
(Studio/Distributor):
Sony Pictures Home Entertainment
(Catalog Number):
49915
(MPAA Rating):
R
(Rating Reason):
Sexuality and horror violence.
(Retail Price):
$$30.99
(Disc Type):
BD-66
(Widescreen Edition):
Yes
(Full Screen Edition):
(Running Time In Minutes):
127
(Color Type):
Color
(Chaptered/Scene Access):
Yes
(Closed Captioned):
Yes
(Regional Coding):
A, B, C
(Theatrical Year):
(Theatrical Release):
Yes
(Direct-To-Video Release):
(Disc Release Date):
10/3/2017
(THX® Digitally Mastered):
(Director):
Francis Ford Coppola
(Screenplay/Written By):
(Story):
(Music):
(Director Of Photography):
(Production Designer):
(Visual Effects):
(Costume Designer):
(Editor):
(Supervising Sound Editors):
(Re-Recording Mixers):
(Executive Producers):
(Co-Producers):
(Producers):
(Academy Awards):
(Principal Photography):
(Theatrical Aspect Ratio):
(Measured Disc Aspect Ratio):
(Disc Soundtrack):
Dolby Atmos, Dolby TrueHD 7.1
(Theatrical Sound):
(Theatrical Re-Issue Soundtrack):
(DTS Bit Rate):
(Dolby Digital Bit Rate):
(Additional Languages):
(Subtitles):
Bram Stoker's Dracula is Director Francis Ford Coppola's stunning masterpiece. This 25th anniversary edition is an audacious and passionately seductive version of the classic legend. Oldman's extraordinary portrayal of a mysteriously sexual Dracula as he grows young to old, from man to beast, is an amazing metamorphosis. Ryder stars as Mina Murray, fiancee of Jonathan Harker (Reeves) and object of Dracula's devastating desire as he believes she is his beloved wife reincarnated. His sole being as a vampire is set on their reunification as he sets out to reclaim her. Hopkins stars as the famed Dr. Van Helsing, who dares to confront him. The original cut of the film was 155 minutes. The film won Academy Awards® for Best Costume Design (Eiko Ishioka), Best Makeup (Creg Cannom, Michéle Burke & Thomas E. Sanders), and Best Sound Effects Editing (Tom C. McCarthy). (Gary Reber)
Special features on the Blu-ray Disc include commentary with Francis Ford Coppola, Visual Effects Director Roman Coppola, and Makeup Supervisor Creg Cannom; commentary with Director Coppola; Director Coppola Introduction; the featurettes Reflections In Blood: Francis Ford Coppola And Bram Stoker's Dracula (HD 29:11) and Practical Magicians: A Collaboration Between Father And Son (HD 20:07); four legacy featurettes: The Blood Is The Life (HD 27:48), The Costumes Are The Sets: The Design Of Eiko Ishioka (HD 14:02), In Camera: Naive Visual Effects (HD 18:46), and Method And Madness: Visualizing Dracula (HD 12:06); 10 deleted and extended scenes (HD 28:14); the Beware trailer; a theatrical trailer; and an UltraViolet digital copy.
The fully restored and remastered 1.85:1 2160p HEVC/H.265 4K Ultra HD HDR-10 and Dolby Vision picture was photographed on Eastman film stock using the Arriflex 535 camera and a master format Digital Intermediate at 4K. While photographed on 35mm Eastman film stock, grain is not an issue, as it is virtually invisible. Last reviewed as a Blu-ray Disc release in Issue 125, November 2007 and previous to that in Issue 57, February 2002, as a Superbit DVD edition, this new 4K Ultra HD release is magnificent in picture quality, with a wider color gamut, with rich and warm hues. Colors are at times contrasted against an otherwise darker backdrop, such a Lucy's brilliant orange gown and orange hair, as well as her white gown worn when undead. Other costumes worn by Mina and Lucy are lusciously hued. Count Dracula's red attire is striking against an otherwise dark castle environment, and the color of blood is realistic. Such color is striking throughout. The English gentlemen black attire also contrasts nicely within the set designs. The London settings are more vivid and extended in the range of color that is absolutely splendid. Contrast is excellent throughout with deep blacks and revealing shadow delineation. The lighting design perfectly accentuates the wonderful production design. The HDR treatment tastefully and effectively enhances the lighting highlights. Resolution is excellent, but there is still a bit of softness exhibited in some scenes, and especially with respect to the complexions of Mina and Lucy, except in extreme closeups, which exhibit no facial lines. Otherwise, facial features and skin pores on the men, and especially Dracula, are finely revealing in detail, as are costumes, hair, and object textures, which are nicely detailed. Spatial dimensionality is impressive, as well. This is absolutely the finest presentation available to home theatre enthusiasts, far better than any previous release. This restoration of Bram Stoker's classic is a definite must own. (Gary Reber)