BLU-RAY REVIEW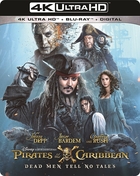 Pirates Of The Caribbean: Dead Men Tell No Tales 4K Ultra HD
Basic Information on new release titles is posted as soon as titles are announced. Once reviewed, additional data is added to the database.
(Studio/Distributor):
Walt Disney Home Entertainment
(Catalog Number):
146387
(MPAA Rating):
PG-13
(Rating Reason):
Sequences of adventure violence, and some suggestive content.
(Retail Price):
$$29.99
(Disc Type):
BD-66
(Widescreen Edition):
Yes
(Full Screen Edition):
(Running Time In Minutes):
129
(Color Type):
Color
(Chaptered/Scene Access):
Yes
(Closed Captioned):
Yes
(Regional Coding):
A, B, C
(Theatrical Year):
(Theatrical Release):
Yes
(Direct-To-Video Release):
(Disc Release Date):
10/3/2017
(THX® Digitally Mastered):
(Director):
Joachim Ronning & Espen Sandberg
(Screenplay/Written By):
(Story):
(Music):
(Director Of Photography):
(Production Designer):
(Visual Effects):
(Costume Designer):
(Editor):
(Supervising Sound Editors):
(Re-Recording Mixers):
(Executive Producers):
(Co-Producers):
(Producers):
(Academy Awards):
(Principal Photography):
(Theatrical Aspect Ratio):
(Measured Disc Aspect Ratio):
(Disc Soundtrack):
Dolby Atmos, Dolby TrueHD 7.1
(Theatrical Sound):
(Theatrical Re-Issue Soundtrack):
(DTS Bit Rate):
(Dolby Digital Bit Rate):
(Additional Languages):
(Subtitles):
Pirates Of The Caribbean: Dead Men Tell No Tales is a rollicking new tale of the high seas. The rip-roaring adventure—packed with humor, suspense, and awesome special effects—finds down-on-his-luck Captain Jack Sparrow (Depp) feeling the winds of ill fortune blowing strongly his way when deadly ghost sailors, led by the terrifying Captain Salazar "Bardem," escape from the Devil's Triangle, bent on killing every pirate at sea—notably Jack. (Gary Reber)
Special features on the Blu-ray Disc include seven featurettes under the title Dead Men Tell More Tales: The Making Of A New Adventure: A Return To The Sea (HD 03:33), Telling Tales: A Sit-Down With Brenton & Kaya (HD 08:48), The Matador & The Bull: Secrets Of Salazar & The Silent Mary (HD 13:38), First Mate Confidential (HD 08:48), Deconstructing The Ghost Sharks (HD 03:50), Wings Over The Caribbean (HD 05:11), and An Enduring Legacy (HD 03:59); bloopers of the Caribbean (HD 02:58); Jerry Bruckheimer's photo diary; four deleted scenes (HD 02:59); upfront previews (Blu-ray); and a digital copy.
The 2.40:1 2160p HEVC/H.265 Ultra HD HDR 10 picture was photographed digitally using Arri Alexa Mini and XT camera systems at source resolutions of 3.4K with a master 2K (not 4K) Digital Intermediate format and reviewed on a Sony Bravia Z9D 4K Ultra HD HDR display. A 3D version, converted by Legend 3D and Prime Focus World, was released theatrically, but Disney has yet to release this version for home. Picture quality is excellent, with a color palette that depicts bright St. Martin settings and those of dark seas, and a ghostly pirate ship and shadowily environs. Hues are rich and warm, as well as vibrant in the bright scenes and grayish blue in others. The red uniforms of the English soldiers are deeply saturated, contrasted with bright, pristine white collars. Fleshtones retain naturalness throughout. Contrast is well balanced under various lighting conditions, with bright highlights nicely accentuated via HDR, and blacks are deeply rendered with revealing shadow delineation. Resolution is excellent as well, with fine detail exhibited in close-ups of facial features, skin pores, hair, clothing, and object textures of worn wood, jewelry, and ornaments, and all manner pavements, building, and ships. Crowds in the square are nicely delineated in terms of persons and outfits and their varying contrasts. Production design is imaginative and quite intricate in complexity. Explosions are fiery orange and well defined, with compelling black smoke. This is a wonderful picture with imagery that is sharp and clear, as well as pristine throughout, with numerous reference-quality sequences. (Gary Reber)