BLU-RAY REVIEW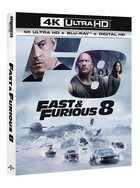 Fate Of The Furious, The 4K Ultra HD
Basic Information on new release titles is posted as soon as titles are announced. Once reviewed, additional data is added to the database.
(Studio/Distributor):
Universal Studios Home Entertainment
(Catalog Number):
61187516
(MPAA Rating):
PG-13
(Rating Reason):
Prolonged sequences of violence and destruction, suggestive content and language.
(Retail Price):
$$44.98
(Disc Type):
BD-66
(Widescreen Edition):
Yes
(Full Screen Edition):
(Running Time In Minutes):
136
(Color Type):
Color
(Chaptered/Scene Access):
Yes
(Closed Captioned):
Yes
(Regional Coding):
A
(Theatrical Year):
(Theatrical Release):
Yes
(Direct-To-Video Release):
(Disc Release Date):
7/11/2017
(THX® Digitally Mastered):
(Director):
F. Gary Gray
(Screenplay/Written By):
(Story):
(Music):
(Director Of Photography):
(Production Designer):
(Visual Effects):
(Costume Designer):
(Editor):
(Supervising Sound Editors):
(Re-Recording Mixers):
(Executive Producers):
(Co-Producers):
(Producers):
(Academy Awards):
(Principal Photography):
(Theatrical Aspect Ratio):
(Measured Disc Aspect Ratio):
(Disc Soundtrack):
DTS:X, DTS HD Lossless 7.1
(Theatrical Sound):
(Theatrical Re-Issue Soundtrack):
(DTS Bit Rate):
(Dolby Digital Bit Rate):
(Additional Languages):
(French Language):
(Spanish Language):
(Subtitles):
In The Fate Of The Furious, now that Dom (Diesel) and Letty (Rodriguez) are married, Brian and Mia have retired from the game, and the rest of the crew has been exonerated, the globetrotting team seems to have found a semblance of a normal life. But when a mysterious woman (Theron) lures Dom back into the world of crime and convinces him to betray those closest to him, the crew faces new trials that will test them as never before. (Gary Reber)
Special features on the Blu-ray Disc include commentary with Director F. Gary Gray; five featurettes: The Cuban Spirit (HD 08:04 ), In The Family (HD 20:36 ), Car Culture (HD 21:21 ), All About the Stunts (HD 18:27 ), and Extended Fight Scenes (HD 05:03 ); upfront previews; and a digital copy.
The 2.39:1 2160p HEVC/H.265 Ultra HD HDR 10 picture was photographed digitally using an Arri Alexa XT Plus and the Sony CineAlta PMW-F55 camera systems at source resolutions of 4K and 6K and a master 2K (not 4K) Digital Intermediate format, and reviewed on a Sony Bravia Z9D 4K Ultra HD HDR display. Picture quality is superb, exhibiting exemplary clarity and sharpness. The color palette is rich and warm with vibrant hues that pop. Such a vibrant color palette delivers excellent brilliance to the imagery. Fleshtones appear healthy with a natural presence, though, exhibiting a slightly deeper tone. Contrast is excellent with a tasteful enhancement of the brighter spectrum, deep blacks, and revealing shadow delineation. Resolution is excellent, as well, with fine detail evident throughout, especially during close-ups of facial features, skin pores, hair, clothing, and object textures. This is a terrific-looking picture with a robust color palette, dramatic visuals, and revealing clarity that delivers a visually exciting and vibrant visual experience. (Gary Reber)