BLU-RAY REVIEW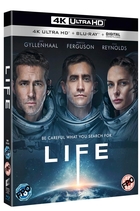 Life 4K Ultra HD
Basic Information on new release titles is posted as soon as titles are announced. Once reviewed, additional data is added to the database.
(Studio/Distributor):
Sony Pictures Home Entertainment
(Catalog Number):
4839
(MPAA Rating):
R
(Rating Reason):
Language throughout and some sci-fi violence and terror.
(Retail Price):
$$45.99
(Disc Type):
BD-66
(Widescreen Edition):
Yes
(Full Screen Edition):
(Running Time In Minutes):
102
(Color Type):
Color
(Chaptered/Scene Access):
Yes
(Closed Captioned):
Yes
(Regional Coding):
A, B, C
(Theatrical Year):
(Theatrical Release):
Yes
(Direct-To-Video Release):
(Disc Release Date):
6/20/2017
(THX® Digitally Mastered):
(Director):
Daniel Espinosa
(Screenplay/Written By):
(Story):
(Music):
(Director Of Photography):
(Production Designer):
(Visual Effects):
(Costume Designer):
(Editor):
(Supervising Sound Editors):
(Re-Recording Mixers):
(Executive Producers):
(Co-Producers):
(Producers):
(Academy Awards):
(Principal Photography):
(Theatrical Aspect Ratio):
(Measured Disc Aspect Ratio):
(Disc Soundtrack):
Dolby Atmos, Dolby TrueHD 7.1
(Theatrical Sound):
(Theatrical Re-Issue Soundtrack):
(DTS Bit Rate):
(Dolby Digital Bit Rate):
(Additional Languages):
(Subtitles):
Life is an intense sci-fi thriller about a team of scientists aboard the International Space Station whose mission of discovery turns to one of primal fear when they find a rapidly evolving life-form that caused extinction on Mars, and now threatens the crew and all life on Earth. (Gary Reber)
Special features on the Blu-ray Disc include 13 deleted scenes (HD 05:49), the featurettes Claustrophobic Terror: Creating A Thriller In Space (HD 07:28), Life: In Zero G (HD 06:54), and Creating Life: The Art And Reality Of Calvin (HD 07:07); Astronaut Diaries (HD 03:00); upfront previews; and an UltraViolet digital copy.
The 2.39:1 2160p HEVC/H.265 4K Ultra HD HDR-10 picture was filmed in Panavision® using the Alexa 65 camera system with a resolution of 6.5K and a master format Digital Intermediate at 2K (not 4K). As the 2K Digital Intermediate has been unconverted to 2160p, there is no real gain in native resolution. Still, picture quality is amazingly incredible! Dynamic range is exceptional, with effectively bright highlights and deep, solid blacks. The bright lights that line the interior of the spacecraft and the astronaut suits as they maneuver outside are brilliantly white. The resulting contrast is impressive. The color palette is naturally hued throughout, with instrumentation and inner-space crate paneling exhibiting metallic hues. The grayish transient coloring of Calvin is definitely creepy, especially during close-ups. This contrasts with the brown suits worn by the astronauts and the natural fleshtones of their faces. Various spot colors provide additional contrast, such as blues and reds. All this works well due to a wonderful production design. Resolution is superb, with fine detail throughout all manner of complex and intricate objects and close-ups of facial features, hair, astronaut suits, and nuanced textures throughout the spacecraft. This is a brilliant UHD presentation that is reference quality. (Gary Reber)