BLU-RAY REVIEW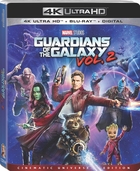 Guardians Of The Galaxy Vol. 2 4K Ultra HD
Basic Information on new release titles is posted as soon as titles are announced. Once reviewed, additional data is added to the database.
(Studio/Distributor):
Marvel
(Catalog Number):
146257
(MPAA Rating):
PG-13
(Rating Reason):
Scenes of sci-fi action and violence, language, and brief suggestive content.
(Retail Price):
$$42.99
(Disc Type):
BD-66
(Widescreen Edition):
Yes
(Full Screen Edition):
(Running Time In Minutes):
137
(Color Type):
Color
(Chaptered/Scene Access):
Yes
(Closed Captioned):
Yes
(Regional Coding):
A
(Theatrical Year):
(Theatrical Release):
Yes
(Direct-To-Video Release):
(Disc Release Date):
8/22/2017
(THX® Digitally Mastered):
(Director):
James Gunn
(Screenplay/Written By):
(Story):
(Music):
(Director Of Photography):
(Production Designer):
(Visual Effects):
(Costume Designer):
(Editor):
(Supervising Sound Editors):
(Re-Recording Mixers):
(Executive Producers):
(Co-Producers):
(Producers):
(Academy Awards):
(Principal Photography):
(Theatrical Aspect Ratio):
(Measured Disc Aspect Ratio):
(Disc Soundtrack):
Dolby Atmos, Dolby TrueHD 7.1
(Theatrical Sound):
(Theatrical Re-Issue Soundtrack):
(DTS Bit Rate):
(Dolby Digital Bit Rate):
(Additional Languages):
(Subtitles):
In Guardians Of The Galaxy Vol. 2, the team must fight to keep their newfound family together as they battle all-powerful enemies and unravel the mind-blowing mystery of Peter Quill (Pratt)'s true parentage. (Gary Reber)
Special features on the Blu-ray Disc include audio commentary by Director James Gunn, the featurettes The Making of Guardians of the Galaxy Vol. 2 (HD 37:39) and Guardians Inferno Music Video (HD 03:35), a gag reel (HD 03:41 ), four deleted scenes (HD 05:04 ), upfront previews, and a digital copy.
The 2.39:1 2160p HEVC/H.265 Ultra HD HDR 10 picture was digitally photographed in Panavision® with the Red Weapon Dragon camera in Vista Vision and with the Phantom 4K camera for some scenes. The picture was rendered and sourced using a Digital Intermediate 2K (not 4K) master format and reviewed on a Sony Bravia Z9D 4K Ultra HD HDR display. While exhibited theatrically in 2D, there was also a 3D conversion by Stereo D and Southbay that was exhibited, but there has yet to be released a 3D Blu-ray Disc, as there was with the 2014 original release. The color palette exhibits impressive depth and saturation, especially evident with Yondu's blue skin and with the complex diversity of other skin hues and objects pertaining to the planets, spaceships, and gear, as well as laser blasts and explosions. HDR enhances the brightest elements of the picture, while black levels remain deep. As the 2K Digital Intermediate has been upconverted to 2160p, there is no real gain in native resolution. Still, resolution is superb, especially with respect to the intricate fine details exhibited in the incredibly varied objects and, of course, in the actors' facial features, hair, and costumes. Clarity is terrific, with image rendering that is pristine. This is an impressive reference-quality presentation from Disney. (Gary Reber)