BLU-RAY REVIEW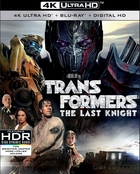 Transformers: The Last Knight 4K Ultra HD
Basic Information on new release titles is posted as soon as titles are announced. Once reviewed, additional data is added to the database.
(Studio/Distributor):
Paramount Home Entertainment
(Catalog Number):
2077748
(MPAA Rating):
PG-13
(Rating Reason):
Violence and intense sequences of sci-fi action, language and some innuendo.
(Retail Price):
$$37.99
(Disc Type):
BD-66
(Widescreen Edition):
Yes
(Full Screen Edition):
(Running Time In Minutes):
154
(Color Type):
Color
(Chaptered/Scene Access):
Yes
(Closed Captioned):
Yes
(Regional Coding):
A
(Theatrical Year):
(Theatrical Release):
Yes
(Direct-To-Video Release):
(Disc Release Date):
9/26/2017
(THX® Digitally Mastered):
(Director):
Michael Bay
(Screenplay/Written By):
(Story):
(Music):
(Director Of Photography):
(Production Designer):
(Visual Effects):
(Costume Designer):
(Editor):
(Supervising Sound Editors):
(Re-Recording Mixers):
(Executive Producers):
(Co-Producers):
(Producers):
(Academy Awards):
(Principal Photography):
(Theatrical Aspect Ratio):
(Measured Disc Aspect Ratio):
(Disc Soundtrack):
Dolby Atmos, Dolby TrueHD 7.1
(Theatrical Sound):
(Theatrical Re-Issue Soundtrack):
(DTS Bit Rate):
(Dolby Digital Bit Rate):
(Additional Languages):
(French Language):
(Spanish Language):
(Subtitles):
In Transformers: The Last Knight, humans and Transformers are at war and Optimus Prime is gone. The key to saving our future lies buried in the secrets of the past, in the hidden history of Transformers on Earth. Saving our world falls upon the shoulders of an unlikely alliance: Cade Yeager (Wahlberg); Bumblebee; an English Lord (Hopkins); and an Oxford Professor (Haddock). There comes a moment in everyone's life when we are called upon to make a difference. Here, the hunted will become heroes. Heroes will become villains. Only one world will survive theirs, or ours. (Gary Reber)
Special features on the Blu-ray Disc include six featurettes: Merging Mythologies, Climbing The Ranks, The Royal Treatment: Transformers In The UK, Motors And Magic, Alien Landscape: Cybertron, and One More Giant Effin' Movie; and an UltraViolet digital copy.
The 1.78:1 2160p HEVC/H.265 Ultra HD HDR 10 picture was photographed with the Arri Alexa IMAX (dual-strip 3D), Arriflex 416 Plus, Red Epic Dragon, Red Weapon Dragon, Red Weapon Helium camera systems in Panavision®, mastered to a 2K (not 4K) Digital Intermediate, and reviewed on a Sony Bravia Z9D 4K Ultra HD HDR display. While exhibited theatrically in 3D with a conversion by Prime Focus World and released for home viewing, no 3D Blu-ray Disc was provided for review. This is Paramount's first 4K Ultra HD release in Dolby Vision. [If your display device does not support Dolby Vision, the movie will play in HDR10 format.] Resolution is incredible, as is clarity and sharpness. Fine detail is exhibited throughout in every frame, from facial features such as skin pores and hair, to clothing to object textures, and of course, the Transformers and the intricate composition of their animated parts. The fineness of detail in the production design is mesmerizing. Contrast is superb, enhanced with HDR for deep blacks, revealing shadow delineation, and tasteful bright highlights, such as whites and the intensity of sky brightness and lighting design. This makes for an extremely dynamic picture presence throughout, with shadows and black-level gradations stunning. Bright daylight scenes are perfectly natural. The color palette exhibits a wide gamut of hues that exhibit naturalness, yet at times really pop. Fire flames, such as explosions, are complex in hue, and primaries such as reds and blues are strongly hued. Fleshtones are perfectly natural throughout, no mater what the lighting condition. This is an exemplary 4K Ultra HD HDR presentation, with incredible visual effects, that is exceptional reference quality throughout. (Gary Reber)