BLU-RAY REVIEW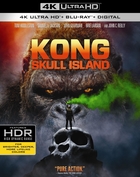 Kong Skull Island 4K Ultra HD
Basic Information on new release titles is posted as soon as titles are announced. Once reviewed, additional data is added to the database.
(Studio/Distributor):
Warner Bros
(Catalog Number):
83929
(MPAA Rating):
PG-13
(Rating Reason):
Scenes of intense sequences of sci-fi violence and action, and for ref strong language.
(Retail Price):
$$29.96
(Disc Type):
BD-66
(Widescreen Edition):
Yes
(Full Screen Edition):
(Running Time In Minutes):
118
(Color Type):
Color
(Chaptered/Scene Access):
Yes
(Closed Captioned):
Yes
(Regional Coding):
A
(Theatrical Year):
(Theatrical Release):
Yes
(Direct-To-Video Release):
(Disc Release Date):
7/18/2017
(THX® Digitally Mastered):
(Director):
Jordan Vogt-Roberts
(Screenplay/Written By):
(Story):
(Music):
(Director Of Photography):
(Production Designer):
(Visual Effects):
(Costume Designer):
(Editor):
(Supervising Sound Editors):
(Re-Recording Mixers):
(Executive Producers):
(Co-Producers):
(Producers):
(Academy Awards):
(Principal Photography):
(Theatrical Aspect Ratio):
(Measured Disc Aspect Ratio):
(Disc Soundtrack):
Dolby Atmos, Dolby TrueHD 7.1
(Theatrical Sound):
(Theatrical Re-Issue Soundtrack):
(DTS Bit Rate):
(Dolby Digital Bit Rate):
(Additional Languages):
(French Language):
(Spanish Language):
(Subtitles):
(Mandarin Language):
In Kong Skull Island, a team of scientists, soldiers and adventurers explore an uncharted island in the Pacific, but their mission of discovery becomes the ultimate battle between man and nature when they venture into the domain of the mighty Kong. (Gary Reber)
Special Features on the Blu-ray Disc include commentary with Director Jordan Vogt-Roberts; five featurettes: Creating a King (HD 24:26 ), Monarch Files 2.0 (HD 07:58 ), Tom Hiddleston: The Intrepid Traveler (HD 06:53), Through The Lens: Brie Larson's Photography (HD 02:19 ), and On Location: Vietnam (HD 05:38 ); five deleted scenes (HD 03:45 ); upfront previews; and a digital copy.
The 2.40:1 2160p HEVC/H.265 Ultra HD HDR 10 picture was digitally photographed with Arri Alexa XT cameras and sourced from a 2K (not 4K) Digital Intermediate master format and reviewed on a Sony Bravia Z9D 4K Ultra HD HDR display. As the 2K Digital Intermediate has been upconverted to 2160p, there is no real gain in native resolution. Still, the imagery exhibits exceptional resolution and sharpness throughout, whether in realistic settings or CG-dominated sequences. Detail is evident on uniforms, clothing, natives, facial features, civilian clothing, gadgets and armory, and object texture. Contrast is excellent as well, with deep, solid blacks and revealing shadow delineation. The color palette is colorfully natural in appearance from the environmental settings, to Kong, to the native villagers, to fleshtones. The opening scenes in Washington D.C. project a dated seventies film effect and shift to a stylized opening 1945 War World II island sequence. But when the expedition reaches Kong's island, the colors shift to naturalness. The end sequences return to the stylization of a home movie shot on 16mm. This is one of the finest examples of the seamless integration of digital creations set within spectacular location photography and serves as a superb reference-quality picture that will not disappoint. (Gary Reber)