BLU-RAY REVIEW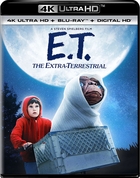 E.T. The Extra-Terrestrial 4K Ultra HD
Basic Information on new release titles is posted as soon as titles are announced. Once reviewed, additional data is added to the database.
(Studio/Distributor):
Universal Studios Home Entertainment
(Catalog Number):
61190959
(MPAA Rating):
PG
(Rating Reason):
(Retail Price):
$$49.98
(Disc Type):
BD-66
(Widescreen Edition):
Yes
(Full Screen Edition):
(Running Time In Minutes):
115
(Color Type):
Color
(Chaptered/Scene Access):
Yes
(Closed Captioned):
Yes
(Regional Coding):
A
(Theatrical Year):
(Theatrical Release):
Yes
(Direct-To-Video Release):
(Disc Release Date):
9/12/2017
(THX® Digitally Mastered):
(Director):
Steven Spielberg
(Screenplay/Written By):
(Story):
(Music):
(Director Of Photography):
(Production Designer):
(Visual Effects):
(Costume Designer):
(Editor):
(Supervising Sound Editors):
(Re-Recording Mixers):
(Executive Producers):
(Co-Producers):
(Producers):
(Academy Awards):
(Principal Photography):
(Theatrical Aspect Ratio):
(Measured Disc Aspect Ratio):
(Disc Soundtrack):
DTS:X
(Theatrical Sound):
(Theatrical Re-Issue Soundtrack):
(DTS Bit Rate):
(Dolby Digital Bit Rate):
(Additional Languages):
(French Language):
(Spanish Language):
(Subtitles):
(Japanese Language):
This is the 35th Anniversary Limited Edition of the original classic and the second version to appear on Blu-ray Disc™. E.T. The Extra-Terrestrial remains today an extraordinary film, one that will warm your heart with its wondrous entertainment and magic. Its story about human values, understanding, compassion, and love is timeless as told through the perspective of a young boy's (Thomas) friendship with a visitor from another planet. Along with the superb performance of Thomas, the rest of the cast is just as natural and believable as the film's feeling of reality. Director Steven Spielberg digitally enhanced his Oscar-winning 1982 classic for the Blu-ray Disc released on October 9, 2012 with current technology that was not available to him at the time, then 30 years ago. This latest version has been re-mastered in 4K Ultra HD with HDR and a DTS:X Immersive Sound soundtrack. (Gary Reber)
Special features include seven featurettes: The E.T. Journals (HD 53:38), Steven Spielberg & E.T. (HD 12:31), the Music Of E.T.: A Discussion With John Williams (HD 10:04), A Look Back (HD 37:43), The Evolution Of And Creation Of E.T. (HD 50:16), The E.T. Reunion (HD 17:56), and The 20th Anniversary Premiere (HD 17:49); Designs, Photographs And Marketing Of E.T.; deleted scenes (HD 03:40); the theatrical trailer; and an UltraViolet digital copy.
The 1.85:1 2160p HEVC/H.265 Ultra HD HDR 10 picture was digitally photographed with Panavision cameras and lenses and sourced from a 2K (not 4K) Digital Intermediate master format, and reviewed on a Sony Bravia Z9D 4K Ultra HD HDR display. As with the 1.85:1 1080p AVC picture that was impressively restored on the previous Blu-ray Disc, Spielberg himself supervised and approved the high-definition transfer. As the 2K Digital Intermediate has been unconverted to 2160p, there is no real gain in native resolution. Still, this new 4K Ultra HD Blu-ray Disc release looks absolutely pristine and never dated. Resolution and sharpness is impressively exceptional, with fine detail exhibited throughout. Contrast is perfectly balanced with deep, solid blacks and revealing shadow delineation. The opening scene with flashlights and other bright lights is further intensified by HDR enhancement. HDR is tastefully rendered throughout with impressive whites, such as exhibited in the make-shift hospital in Elliot's home, further enhancing contrast. Colors are naturally hued throughout, with rich and warm tones and an impressive wider color palette. Fleshtones are naturally rendered, and E.T.'s body texture is incredibly photogenic. Allen Daviau's cinematography is brilliantly presented and more impressive than ever, making this release as perfect as possible and not only faithful to its original 35mm presentation but impressively exceeding in picture quality. Viewing this release far better connects emotionally, no doubt due to the 2160 resolution and HDR, and is sure to enthrall loyal fans and new viewers no matter what their age. Brilliant! (Gary Reber)