BLU-RAY REVIEW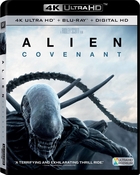 Alien Covenant 4K Ultra HD
Basic Information on new release titles is posted as soon as titles are announced. Once reviewed, additional data is added to the database.
(Studio/Distributor):
20th Century Fox Home Entertainment
(Catalog Number):
24543
(MPAA Rating):
R
(Rating Reason):
Sci-fi violence, bloody images, language and some sexuality/nudity.
(Retail Price):
$$39.99
(Disc Type):
BD-66
(Widescreen Edition):
Yes
(Full Screen Edition):
(Running Time In Minutes):
122
(Color Type):
Color
(Chaptered/Scene Access):
Yes
(Closed Captioned):
Yes
(Regional Coding):
A
(Theatrical Year):
(Theatrical Release):
Yes
(Direct-To-Video Release):
(Disc Release Date):
8/15/2017
(THX® Digitally Mastered):
(Director):
Ridley Scott
(Screenplay/Written By):
(Story):
(Music):
(Director Of Photography):
(Production Designer):
(Visual Effects):
(Costume Designer):
(Editor):
(Supervising Sound Editors):
(Re-Recording Mixers):
(Executive Producers):
(Co-Producers):
(Producers):
(Academy Awards):
(Principal Photography):
(Theatrical Aspect Ratio):
(Measured Disc Aspect Ratio):
(Disc Soundtrack):
Dolby Atmos, Dolby TrueHD 7.1
(Theatrical Sound):
(Theatrical Re-Issue Soundtrack):
(DTS Bit Rate):
(Dolby Digital Bit Rate):
(Additional Languages):
(Subtitles):
In Alien Covenant, the crew of the colony ship Covenant, bound for a remote planet on the far side of the galaxy, discovers what they think is an uncharted paradise, but itís actually a dark, dangerous world. When they uncover a threat beyond their imagination, they must attempt a narrowing escape. (Gary Reber)
Special features on the Blu-ray Disc include commentary by Director Ridley Scott; deleted and extended scenes (HD 17:37); three featurettes: USCSS Covenant (HD 16:47), Sector 87-Planet 4 (HD 9:15), and Master Class: Ridley Scott (HD 55:30); a production gallery; illustrations; theatrical trailers; and a digital copy.
The 2.40:1 2160p HEVC/H.265 Ultra HD HDR 10 picture, was digitally photographed with Arri Alexa cameras and sourced using a 2K Digital Intermediate (not 4K) master format and reviewed on a Sony Bravia Z9D 4K Ultra HD HDR display. As the 2K Digital Intermediate has been upconverted to 2160p, there is no real gain in native resolution. Still, imagery quality is excellent throughout. The color palette is perfectly natural in appearance, with excellent contrast in hues in numerous scenes, enhanced with lighting highlights that are often striking and dynamic. At times colors pop, further enhancing contrast. Blacks are well defined, as well as shadows. Some scenes within the spacecraft exhibit a metallic touch, as far as the actual interior structural elements. The spacecraft exteriors are visually stunning, especially with the bronze-metallic solar wings fully extended. Fleshtones are natural throughout, under various lighting conditions. Resolution is superb, with fine detail exhibited throughout the interior and exterior of the spacecraft, as well as facial features, including skin pores, hair, clothing, and uniforms, and object textures. Of course, the various stages of Alien development also are well defined in terms of resolution and enhance the sense of terror. This is a great-looking picture that exhibits reference-quality elements and is sure to please fans. (Gary Reber)