BLU-RAY REVIEW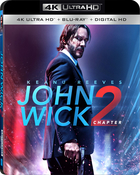 John Wick: Chapter 2 4K Ultra HD
Basic Information on new release titles is posted as soon as titles are announced. Once reviewed, additional data is added to the database.
(Studio/Distributor):
Lionsgate Home Entertainment
(Catalog Number):
51545
(MPAA Rating):
R
(Rating Reason):
Strong violence throughout, some language and brief nudity.
(Retail Price):
$$42.99
(Disc Type):
BD-66
(Widescreen Edition):
Yes
(Full Screen Edition):
(Running Time In Minutes):
122
(Color Type):
Color
(Chaptered/Scene Access):
Yes
(Closed Captioned):
Yes
(Regional Coding):
A
(Theatrical Year):
(Theatrical Release):
Yes
(Direct-To-Video Release):
(Disc Release Date):
6/13/2017
(THX® Digitally Mastered):
(Director):
Chad Stahelski
(Screenplay/Written By):
(Story):
(Music):
(Director Of Photography):
(Production Designer):
(Visual Effects):
(Costume Designer):
(Editor):
(Supervising Sound Editors):
(Re-Recording Mixers):
(Executive Producers):
(Co-Producers):
(Producers):
(Academy Awards):
(Principal Photography):
(Theatrical Aspect Ratio):
(Measured Disc Aspect Ratio):
(Disc Soundtrack):
Dolby Atmos, Dolby TrueHD 7.1
(Theatrical Sound):
(Theatrical Re-Issue Soundtrack):
(DTS Bit Rate):
(Dolby Digital Bit Rate):
(Additional Languages):
(French Language):
(Spanish Language):
(Subtitles):
In John Wick: Chapter 2, the legendary hit man is forced out of retirement again by a former associate plotting to seize control of a shadowy international assassins' guild. Bound by a blood oath to help him, John travels to Rome, where he squares off against some of the world's deadliest killers. (Gary Reber)
Special features on the Blu-ray Disc include commentary with Keanu Reeves and Director Chad Stahelski; three deleted scenes (HD 08:05); nine featurettes: Retro Wick: Exploring The Unexpected Success Of John Wick (HD 04:34), Training John Wick (HD 12:00), WICK-Vizzed (HD 05:13), Friends, Confidantes: The Keanu/Chad Partnership (HD 09:54), As Above, So Below: The Underworld Of John Wick (HD 05:06), Car Fu Ride-Along (HD 04:44), Chamber Check: Evolution Of A Fight Scene (HD 10:08), Wick's Toolbox (HD 08:14), A Museum Tour With Sir Jonathan Wick (HD 02:11), and Kill Count (HD 03:09); Dog Wick: short (HD 01:37); upfront previews; and an UltraViolet digital copy.
The 2.40:1 2160p HEVC/H.265 4K Ultra HD HDR-10 picture, photographed digitally using the Arri Alexa camera system with a Digital Intermediate that is unknown as to whether itís 2K or 4K, is absolutely superb and exhibits captivating stylization. The HDR effect nicely enhances the bright highlights, providing increased contrast and luminance. The color palette is perfectly natural with strong saturation yet is well balanced. Primaries are solid. Hues are rich and warm, as well as vibrant. Fleshtones are healthy and natural in all respects. The imagery is incredibly pristine and sharp. Clarity is awesome. Fine detail is exhibited throughout in facial features, hair, fine tailoring, and object textures. Contrast is dynamic with strong, deep, solid blacks and well-defined shadow delineation. This is an incredibly vibrant and thrilling visual experience with nicely executed cinematography that is reference UHD at its finest. (Gary Reber)