BLU-RAY REVIEW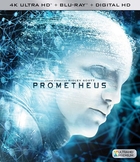 Prometheus 4K Ultra HD
Basic Information on new release titles is posted as soon as titles are announced. Once reviewed, additional data is added to the database.
(Studio/Distributor):
20th Century Fox Home Entertainment
(Catalog Number):
2335332
(MPAA Rating):
R
(Rating Reason):
Sc-fi violence including some intense images and brief language
(Retail Price):
$$39.99
(Disc Type):
BD-66
(Widescreen Edition):
Yes
(Full Screen Edition):
No
(Running Time In Minutes):
124
(Color Type):
Color
(Chaptered/Scene Access):
Yes
(Closed Captioned):
Yes
(Regional Coding):
A
(Theatrical Year):
2012
(Theatrical Release):
Yes
(Direct-To-Video Release):
No
(Disc Release Date):
8/15/2017
(THX® Digitally Mastered):
No
(Director):
Ridley Scott
(Screenplay/Written By):
(Story):
(Music):
(Director Of Photography):
(Production Designer):
(Visual Effects):
(Costume Designer):
(Editor):
(Supervising Sound Editors):
(Re-Recording Mixers):
(Executive Producers):
(Co-Producers):
(Producers):
(Academy Awards):
(Principal Photography):
(Theatrical Aspect Ratio):
(Measured Disc Aspect Ratio):
(Disc Soundtrack):
Dolby Digital 5.1, DTS HD Lossless 7.1
(Theatrical Sound):
(Theatrical Re-Issue Soundtrack):
(DTS Bit Rate):
(Dolby Digital Bit Rate):
(Additional Languages):
(French Language):
(Spanish Language):
(Chinese Language):
(Subtitles):
(Cantonese Language):
(Mandarin Language):
(Japanese Language):
(Italian Language):
(German Language):
(Portuguese Language):
Archeologist couple Elizabeth Shaw (Rapace) and Charlie Holloway (Marshall-Green) discover a star map that they interpret as an invitation from humanity's forerunners, the "Engineers." Determined to find out more about them, the couple boards the scientific vessel Prometheus, created and funded by Peter Weyland (Pearce), CEO of Weyland Corporation. Lead by mission director Meredith Vickers (Theron) and monitored by Weyland's android David (Fassbender), the team of explorers find a clue to the origins of mankind on Earth and embark on a thrilling journey to the darkest corners of the universe, where they fight a terrifying battle to save the future of the human race. (Tricia Spears)
Special features on the Blu-ray Disc include commentary by Director/Producer Ridley Scott, commentary by Writer Jon Spaihts and Writer/Executive Producer Damon Lindelof, 14 deleted and alternate scenes with optional commentary by Editor Pietro Scalia and Visual Effects Supervisor Richard Stammers (HD 36:51), the featurette The Peter Weyland Files (HD 18:57), the Prometheus mobile app, BD-Live, and a digital copy.
The 2.40:1 2160p HEVC/H.265 Ultra HD HDR 10 picture was digitally photographed on the Pinewood Studio lot in England where sets and lighting rigs were built specifically to provide Director Ridley Scott and Cinematographer Dariusz Wolski complete control over the photography. The picture was photographed in native 3D using the 3Ality Technica Atom 3D camera rig and Red Epic cameras, sourced from a Digital Intermediate 2K (not 4K) master format, and reviewed on a Sony Bravia Z9D 4K Ultra HD HDR display. Theatrically, Prometheus was exhibited in both blowup 70mm IMAX 3D (1.66:1) and IMAX Digital 3D (1.90:1) as well as 2D 2.40:1. Prometheus was previously reviewed as a 3D Blu-ray Disc release in Issue 171 (November 2012). This new HDR version is an exemplary presentation, with a tasteful application of a wider color gamut and lighting design in which the application of HDR emphasizes the light intensity effectively throughout, whether within Prometheus or in the caverns of the "engineers'" planet installation and space ship. As a result of the emphasis on lighting, contrast is dramatically heightened against blackish shadowy environs. The exemplary low-light picture quality can be especially appreciated on this 4K Ultra HDR version, which is attributive to the cinematic image quality achieved by the filmmakers. To optimize the image quality, Prometheus should be viewed in a blackened dark room on a display device with excellent native contrast performance. Noise is completely absent, and the picture exhibits an absolutely pristine appearance. The imagery is stunning, with a perfectly balanced color palette with distinctively rich and warm hues displayed throughout. Fleshtones are naturally hued throughout, often against gray backgrounds. Isolated objects and space suits pop with color (like a yellow lit visor in an otherwise gray environment). Numerous scenes have a largely monochromatic look to the majority of the frame, with an isolated discrete element within the frame providing some real color. Contrast is excellent with deep, solid and nuanced blacks and incredibly revealing shadow delineation. As the 2K Digital Intermediate has been upconverted to 2160p, there is no real gain in native resolution, yet resolution is extraordinary, with the finest textures and detail incredibly rendered. Such remarkable detail is seen in facial features, hair, clothing, space suits, and intricate object textures. Every picture quality attribute is deservedly impressive. Throughout there is excellent natural-looking distinctions between foreground objects and their backgrounds, for a sense of natural depth. This is one beautiful picture that exhibits incredible textural definition, dimension, and detail. The picture is reference quality throughout! (Gary Reber)
While unfortunately not a remix in DTS:X Immersive Sound, the DTS-HD Master Audio™ 7.1-channel soundtrack is a testimony to the excellence of holosonic® mixing. The sound is dynamic, with effectively rendered and nuanced low-level ambient atmospherics and a variety of special effect sounds that dimensionalize the soundfield. The dramatic soundstaging and soundfield dimensionalization are never ending. The sense of all-surrounding envelopment is near-constant. Deep bass is extended in the .1 LFE channel at times to sub-25 Hz frequencies and at times is extremely powerful, such as the crashing sounds of a massive waterfall and the thunderous rumble of an alien ship overhead. The orchestral music score is projected wide and deep across the soundstage, extending aggressively to the surrounds, for an immersive enveloping experience. Dialogue sounds natural and is effectively well integrated spatially. The dynamics and subtle ambient qualities, such as realistic cavernous reverberation, as well as the constant all-surrounding immersive thunderous low-frequency presence, is a symphony of sonic perfection. Dialogue is exemplary, as spatial integration always reflect the acoustics of the surroundings in which the actors voice their dialogue. Marc Streitenfeld's orchestral score extends wide and deep across the soundstage, extending aggressively to the surrounds, alternating between quiet uneasiness and strong dynamics. This is one of those exemplary reference soundtracks that set the standard for sonic performance excellence. If your system is up to reproducing incredible sonics, you are in for a rewarding visceral experience that will not disappoint. (Gary Reber)