BLU-RAY REVIEW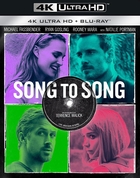 Song To Song 4K Ultra HD
Basic Information on new release titles is posted as soon as titles are announced. Once reviewed, additional data is added to the database.
(Studio/Distributor):
Broad Green Pictures
(Catalog Number):
94188839
(MPAA Rating):
R
(Rating Reason):
Some sexuality, nudity, drug use and language.
(Retail Price):
$$38.99
(Disc Type):
BD-66
(Widescreen Edition):
Yes
(Full Screen Edition):
(Running Time In Minutes):
129
(Color Type):
Color
(Chaptered/Scene Access):
Yes
(Closed Captioned):
Yes
(Regional Coding):
A
(Theatrical Year):
(Theatrical Release):
Yes
(Direct-To-Video Release):
(Disc Release Date):
7/4/2017
(THX® Digitally Mastered):
(Director):
Terrence Malick
(Screenplay/Written By):
(Story):
(Music):
(Director Of Photography):
(Production Designer):
(Visual Effects):
(Costume Designer):
(Editor):
(Supervising Sound Editors):
(Re-Recording Mixers):
(Executive Producers):
(Co-Producers):
(Producers):
(Academy Awards):
(Principal Photography):
(Theatrical Aspect Ratio):
(Measured Disc Aspect Ratio):
(Disc Soundtrack):
DTS HD Lossless 5.1
(Theatrical Sound):
(Theatrical Re-Issue Soundtrack):
(DTS Bit Rate):
(Dolby Digital Bit Rate):
(Additional Languages):
(Subtitles):
Song To Song is a modern love story set against the Austin, Texas music scene. Two entangled couples—struggling songwriters Faye (Mara) and BV (Gosling), and music mogul Co (Fassbender) and the waitress whom he ensnares (Portman)—chase success through a rock-'n'-roll landscape of seduction and betrayal. (Gary Reber)
There are no special features.
The 2.39:1 2160p HEVC/H.265 4K Ultra HD picture is not HDR credited. The picture was sourced from both digital and film cameras with a resolution of 2.8K and 5K and released on Kodak Vision3 film stock. Still, the 4K Digital Intermediate source makes for finer detail and clarity, and a vibrantly colorful picture than the 1080p version, but not by much, Mostly a handheld camera production, there is a lot of generally stable image capture, but it comes off as a documentary style of filmmaking. The cool palette is naturally hued throughout, with at times colors that pop. Contrast is generally well balanced with deep blacks and natural highlights, though, at times the imagery is highly stylized. Resolution is excellent as well as clarity and sharpness. Overall, this is a bright, pleasing picture but with the camera style, while constantly moving, and the editing fast and sharp, it may be a bit unsettling to some. (Gary Reber)
While virtually every 4K Ultra HD release is accompanied by a 7.1-channel or Immersive Sound soundtrack, this is limited to a DTS-HD Master Audio™ 5.1-channel presentation. As noted in the picture quality review, the sound is rather documentary style and non-precise. Immersive Sound is essentially the ambiance from the main channels, which provide subtle effect to the overall sonics. Dialogue narration is consistently intelligible and well balanced spatially. Otherwise, the dialogue is all over the place in terms of spatial integration. Atmospherics also are inconsistently integrated with a sort of home video quality. The music is broadly styled and generally delivers some level of surround envelopment. Overall, this is a non-compelling soundtrack. (Gary Reber)