BLU-RAY REVIEW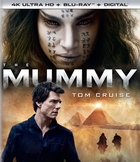 Mummy, The 4K Ultra HD
Basic Information on new release titles is posted as soon as titles are announced. Once reviewed, additional data is added to the database.
(Studio/Distributor):
Universal Studios Home Entertainment
(Catalog Number):
61188191
(MPAA Rating):
PG-13
(Rating Reason):
Violence, action and scary images, and for some suggestive content and partial nudity.
(Retail Price):
$$44.98
(Disc Type):
BD-66
(Widescreen Edition):
Yes
(Full Screen Edition):
(Running Time In Minutes):
110
(Color Type):
Color
(Chaptered/Scene Access):
Yes
(Closed Captioned):
Yes
(Regional Coding):
A
(Theatrical Year):
(Theatrical Release):
Yes
(Direct-To-Video Release):
(Disc Release Date):
9/12/2017
(THX® Digitally Mastered):
(Director):
Alex Kurtzman
(Screenplay/Written By):
(Story):
(Music):
(Director Of Photography):
(Production Designer):
(Visual Effects):
(Costume Designer):
(Editor):
(Supervising Sound Editors):
(Re-Recording Mixers):
(Executive Producers):
(Co-Producers):
(Producers):
(Academy Awards):
(Principal Photography):
(Theatrical Aspect Ratio):
(Measured Disc Aspect Ratio):
(Disc Soundtrack):
Dolby Atmos, Dolby TrueHD 7.1
(Theatrical Sound):
(Theatrical Re-Issue Soundtrack):
(DTS Bit Rate):
(Dolby Digital Bit Rate):
(Additional Languages):
(Subtitles):
In The Mummy, an ancient evil is unleashed after centuries of captivity, and her lust for revenge threatens to destroy the world. Thought safely entombed deep beneath the desert, an ancient princess (Boutella), whose destiny was unjustly taken from her, is awakened in our current day. Her malevolence has grown over the millennia and with it come terrors that defy human comprehension. (Gary Reber)
Special features on the Blu-ray Disc include commentary with Director and Producer Alex Kurtzman and cast members Sofia Boutella, Annabelle Wallis, and Jake Johnson; four deleted and extended scenes (HD 04:52); nine featurettes: Cruise & Kurtzman: A Conversation (HD 21:15), Rooted In Reality (HD 06:52), Life In Zero-G: Creating The Plane Crash (HD 07:32), Meet Ahmanet (HD 07:39), Cruise In Action (HD 06:09), Becoming Jekyll And Hyde (HD 07:10), Choreographed Chaos (HD 06:35), Nick Morton: In Search Of A Soul (HD 05:43), and Ahmanet Reborn Animated Graphic Novel (HD 03:52); upfront previews; and an UltraViolet digital copy.
The 2.40:1 2160p HEVC/H.265 Ultra HD HDR 10 picture was photographed digitally with Arri Alexa 65 and on film with Panavision® Panaflex Millennium XL2 cameras in Super 35, mastered to a 2K (not 4K) Digital Intermediate, and reviewed on a Sony Bravia Z9D 4K Ultra HD HDR display. Some scenes' (plane and underwater) source format was 6.5 K with the Arri. Theatrically, the film was exhibited, as well, in 3D with a 3D conversion by Stereo D, but there has been no 3D Blu-ray Disc release announced by Universal Studios. Presumably, due to an effects-heavy production, the filmmakers used the lower-resolution digital intermediate rather than a 4K intermediate. Thus, as the 2K Digital Intermediate has been unconverted to 2160p, there is no real gain in native resolution. Still, the imagery is impressively sharp. Fine detail is especially resolved during close-ups of facial features such as skin pores, hair, clothing, including worn and ruined mummification bandages, and intricate military garb and hardware. Noteworthy, is the film grain is very faint, if not unnoticeable throughout. The color palette is vibrant in bright scenes with HDR applied to lights and desert sun segments in the opening scenes and in Iraqi exteriors. Much of the film is photographed in low-light shadowy environments and exhibits a dull gray/blue rendering. Still, contrast is often excellent with deep blacks, though, often a bit pale as the scenes are very desaturated, with revealing shadow delineation. Throughout, fleshtones retain naturalness in various lighting conditions. While dark scenes predominate, this is a satisfying visual experience. (Gary Reber)