BLU-RAY REVIEW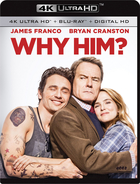 Why Him? 4K Ultra HD
Basic Information on new release titles is posted as soon as titles are announced. Once reviewed, additional data is added to the database.
(Studio/Distributor):
20th Century Fox Home Entertainment
(Catalog Number):
2333149
(MPAA Rating):
R
(Rating Reason):
Strong language and sexual material throughout.
(Retail Price):
$$39.99
(Disc Type):
BD-66
(Widescreen Edition):
Yes
(Full Screen Edition):
(Running Time In Minutes):
111
(Color Type):
Color
(Chaptered/Scene Access):
Yes
(Closed Captioned):
Yes
(Regional Coding):
A
(Theatrical Year):
(Theatrical Release):
Yes
(Direct-To-Video Release):
(Disc Release Date):
3/28/2017
(THX® Digitally Mastered):
(Director):
John Hamburg
(Screenplay/Written By):
(Story):
(Music):
(Director Of Photography):
(Production Designer):
(Visual Effects):
(Costume Designer):
(Editor):
(Supervising Sound Editors):
(Re-Recording Mixers):
(Executive Producers):
(Co-Producers):
(Producers):
(Academy Awards):
(Principal Photography):
(Theatrical Aspect Ratio):
(Measured Disc Aspect Ratio):
(Disc Soundtrack):
DTS HD Lossless 7.1
(Theatrical Sound):
(Theatrical Re-Issue Soundtrack):
(DTS Bit Rate):
(Dolby Digital Bit Rate):
(Additional Languages):
(Subtitles):
Why Him? is a crazy story about love. Ned (Cranston), an overprotective but loving dad, and his family visit his daughter at college, where he meets his biggest nightmare: her well-meaning but socially awkward silicon Valley billionaire boyfriend, Laird (Franco). A rivalry develops, and Ned's panic level goes through the roof when he finds himself lost in this glamorous high-tech world and learns that Laird is about to pop the question. (Gary Reber)
Special features include commentary by Director/Co-Writer John Hamburg; a gag reel (HD 09:58); five featurettes: 47 Minutes On The Can (HD 06:39), Why Gustav? (HD 04:23), Barb Fleming: America's Mom (HD05:44), Lou The Entertainer (HD 04:27), and Richard Blais: Twisted Chef (HD 01:46); nine deleted scenes (HD 31:19); a gallery; the theatrical trailer; upfront previews; and a digital copy.
The 1.84:1 HEVC H.265 4K Ultra HD HDR10 picture was photographed digitally. Strong saturated colors and their highlights nicely pop off the screen for a very vivid and bright viewing experience. Strong primaries are seen throughout with rich reds, blues, golds, dark greens, and other hues. Fleshtones are perfectly natural in hue. Contrast is excellent with deep, solid blacks and revealing shadow delineation. Resolution is finer than the 1080p, though, both versions were sourced from a 2K Digital Intermediate. Still, fine detail is superb and exhibited in facial features, hair, clothing, and object textures, especially in Laird's ultramodern connected mansion. This is a bright and vivid visual experience with excellent black levels, shadow delineation, and contrast, and a color palette that really pops. (Gary Reber)
The DTS-HD Master Audio™ 7.1-channel soundtrack, while dialogue focused, delivers some nicely dynamic segments and a music score that is quite lively. Atmospherics such as "crowd scenes" in Laird's home and a big party sequence that rocks, deliver an effective surround presence. But other than those segments and the music, the soundtrack is very much frontal focused. Dialogue is intelligible throughout. Fidelity is excellent, which enhances this pleasing sonic experience. (Gary Reber)