BLU-RAY REVIEW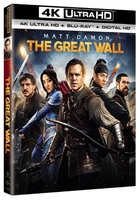 Great Wall, The 4K Ultra HD
Basic Information on new release titles is posted as soon as titles are announced. Once reviewed, additional data is added to the database.
(Studio/Distributor):
Universal Studios Home Entertainment
(Catalog Number):
61186371
(MPAA Rating):
PG-13
(Rating Reason):
Sequences of fantasy action violence.
(Retail Price):
$$44.98
(Disc Type):
BD-66
(Widescreen Edition):
Yes
(Full Screen Edition):
(Running Time In Minutes):
103
(Color Type):
Color
(Chaptered/Scene Access):
Yes
(Closed Captioned):
Yes
(Regional Coding):
A
(Theatrical Year):
(Theatrical Release):
Yes
(Direct-To-Video Release):
(Disc Release Date):
5/23/2017
(THX® Digitally Mastered):
(Director):
Zhang Yimou
(Screenplay/Written By):
(Story):
(Music):
(Director Of Photography):
(Production Designer):
(Visual Effects):
(Costume Designer):
(Editor):
(Supervising Sound Editors):
(Re-Recording Mixers):
(Executive Producers):
(Co-Producers):
(Producers):
(Academy Awards):
(Principal Photography):
(Theatrical Aspect Ratio):
(Measured Disc Aspect Ratio):
(Disc Soundtrack):
Dolby Atmos, Dolby TrueHD 7.1
(Theatrical Sound):
(Theatrical Re-Issue Soundtrack):
(DTS Bit Rate):
(Dolby Digital Bit Rate):
(Additional Languages):
(Subtitles):
In The Great Wall, mankind faces extinction from a monstrous enemy. This is the story of an elite force making a valiant stand for humanity on the world's most iconic structure. When a mercenary warrior (Damon) is imprisoned within The Great Wall, he discovers the mystery behind one of the greatest wonders of the world. As wave after wave of marauding beasts besiege the massive structure, his quest for fortune turns into a journey toward heroism as he joins a huge arm of elite warriors to confront the unimaginable and seemingly unstoppable force. (Gary Reber)
Special features on the Blu-ray Disc include eight deleted and extended scenes (HD 06:49); six featurettes: Matt Damon In China (HD 02:45), The Great Wall Visual Effects (HD 03:06), Working With Director Zhang Yimou (HD03:06), Man Vs. Monster (HD 09:22), Weapons Of War (HD 03:17), and Designing A Spectacular World (HD 03:34); upfront previews; and an UltraViolet digital copy.
The 2.38:1 2160p HEVC/H.265 4K Ultra HD HDR-10 picture, filmed in Master ScopeŽ using the Alexa 65, Arri Alexa XT, Arri Alexa Mini, and Red Dragon camera systems with a resolution of 6.5K and sourced from a master format Digital Intermediate at 4K, is remarkably superb. The picture was photographed in native 3D but a 3D Blu-ray has yet to be released in the U.S. market. The color palette is strikingly rich and warm with an overall earthy hue composition. This is contrasted by strong primaries and the bright hues of the army's soldiers, particularly the blue uniforms of the women fighters and the reds of arrow feathers and soldier cloaks. The colors are vibrant. The backdrop within the wall exhibits blue-and-gray-dominant hues. Outdoors, the bright blue skies nicely contrast with the blue uniforms and the grayish stones of the wall. Contrast is excellent, with defining blacks and revealing shadow delineation. Spatial depth is excellent, as well as the grand scale of the production design. Of course, the cinematography is spectacular, with effective lighting highlights contrasted with the darker hues. Night scenes are terrific, with a dark background and bright torch highlights. Every possible nuanced color shading is impressively rendered. The scene with the floating lanterns is mesmerizing, contrasted against a dark blue sky. Resolution is fantastic, with intricate textures throughout. There is a vast array of fine detail exhibited throughout. Facial features, hair, uniforms, other garments, and object texture, is exceptionally detailed and so realistic. And the rendering of the Tao Tei creatures is fascinatingly detailed. The imagery is impressively sharp throughout. This is a new reference standard for UHD and HDR, with absolutely amazing imagery and color depth, as well as definition. Note also the treatment of the subtitles, perfectly positioned in the center lower frame of the picture. This is a MUST edition for a serious home theatre enthusiast to reference again and again, as this epic presentation is simply spectacular and perfectly executed. (Gary Reber)