BLU-RAY REVIEW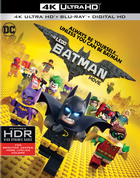 LEGO Batman Movie, The 4K Ultra HD
Basic Information on new release titles is posted as soon as titles are announced. Once reviewed, additional data is added to the database.
(Studio/Distributor):
Warner Home Video
(Catalog Number):
3000073457
(MPAA Rating):
PG
(Rating Reason):
Rude humor and some action.
(Retail Price):
$$44.95
(Disc Type):
BD-66
(Widescreen Edition):
Yes
(Full Screen Edition):
(Running Time In Minutes):
104
(Color Type):
Color
(Chaptered/Scene Access):
Yes
(Closed Captioned):
Yes
(Regional Coding):
A
(Theatrical Year):
(Theatrical Release):
Yes
(Direct-To-Video Release):
(Disc Release Date):
6/13/2017
(THX® Digitally Mastered):
(Director):
Chris McKay
(Screenplay/Written By):
(Story):
(Music):
(Director Of Photography):
(Production Designer):
(Visual Effects):
(Costume Designer):
(Editor):
(Supervising Sound Editors):
(Re-Recording Mixers):
(Executive Producers):
(Co-Producers):
(Producers):
(Academy Awards):
(Principal Photography):
(Theatrical Aspect Ratio):
(Measured Disc Aspect Ratio):
(Disc Soundtrack):
Dolby Atmos, Dolby TrueHD 7.1
(Theatrical Sound):
(Theatrical Re-Issue Soundtrack):
(DTS Bit Rate):
(Dolby Digital Bit Rate):
(Additional Languages):
(Subtitles):
In The LEGO Batman Movie, the self-described leading man of the ensemble—LEGO Batman—stars in his own big-screen adventure. But there are big changes brewing in Gotham City, and if he wants to save the city from The Joker's hostile takeover, Batman may have to drop the lone vigilante thing, try to work with others, and maybe, just maybe, learn to lighten up. (Gary Reber)
Special features on the Blu-ray Disc include director and crew commentaries; four animation shorts: Dark Hoser (HD 02:08), Batman Is Just Not That Into You (HD -2:10), Cooking With Alfred (HD 02:02), and Movie Sound Effects: How Do They Do That? (HD 01:24); The Master A LEGO Ninjago Short (HD 05:23); four deleted scenes (HD 07:00); six featurettes: One Brick At A Time (HD 16:10), Inside Wayne Manor (HD 02:36), Brick By Brick (HD 03:50), Behind The Brick (HD 04:13), Me And My Minifig (HD 00:56), and Comic Con Panel; Rebrick contest winners (HD 02:47); trailers; the LEGO Life trailer; social promos; upfront previews; and an UltraViolet digital copy.
The 2.40:1 2160p HEVC/H.265 4K Ultra HD HDR-10 Rec.2020 picture, filmed digitally in Dolby Vision, was sourced from a master format Digital Intermediate at 4K. The picture is intensely colorful, due to the far greater color gamut. The colors are wonderfully saturated with varying shades of red, yellow, blue, and green. Blacks are extremely deep and solid. Wayne Manor is a glow in orange hues. Batman's home theatre is expansive with grays and blacks. And, of course, Batman's costume is strikingly black. The overall lighting scenes highlight brights with a florescent tinge. At times the imagery cuts to real life videos of classic movie scenes, which all appear perfectly natural. In one sequence, Batman's state of depression is rendered with desaturated color, virtually black-and-white. Resolution is excellent, with sharp lines and fine nuanced LEGO construction. Fine detail is evident when scene action slows to a crawl, otherwise most scenes are actively energized, but clarity and sharpness is consistent throughout. This is an impressively bright, sharp, and intensely colorful presentation that is mesmerizing throughout. (Gary Reber)