BLU-RAY REVIEW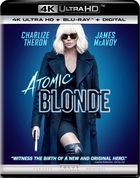 Atomic Blonde 4K UltraHD
Basic Information on new release titles is posted as soon as titles are announced. Once reviewed, additional data is added to the database.
(Studio/Distributor):
Universal Studios Home Entertainment
(Catalog Number):
62184526
(MPAA Rating):
R
(Rating Reason):
Sequences of strong violence, language throughout and some sexuality/nudity.
(Retail Price):
$$44.98
(Disc Type):
BD-66
(Widescreen Edition):
Yes
(Full Screen Edition):
(Running Time In Minutes):
114
(Color Type):
Color
(Chaptered/Scene Access):
Yes
(Closed Captioned):
Yes
(Regional Coding):
A
(Theatrical Year):
(Theatrical Release):
Yes
(Direct-To-Video Release):
(Disc Release Date):
11/14/2017
(THX® Digitally Mastered):
(Director):
David Leitch
(Screenplay/Written By):
(Story):
(Music):
(Director Of Photography):
(Production Designer):
(Visual Effects):
(Costume Designer):
(Editor):
(Supervising Sound Editors):
(Re-Recording Mixers):
(Executive Producers):
(Co-Producers):
(Producers):
(Academy Awards):
(Principal Photography):
(Theatrical Aspect Ratio):
(Measured Disc Aspect Ratio):
(Disc Soundtrack):
DTS:X, DTS HD Lossless 7.1
(Theatrical Sound):
(Theatrical Re-Issue Soundtrack):
(DTS Bit Rate):
(Dolby Digital Bit Rate):
(Additional Languages):
(French Language):
(Spanish Language):
(Subtitles):
In Atomic Blonde, Lorraine Broughton (Theron) is elite MI6's most lethal assassin and the crown jewel of her Majesty's secret intelligence service. When she's sent on a cover mission into Cold War Berlin, she must use all of the spycraft, sensuality and savagery she has to stay alive in the ticking time bomb of a city simmering with revolution and double-crossing hives of traitors. Broughton must navigate her way through a deadly game of spies to recover a priceless dossier while fighting ferocious killers along the way. Based on the Oni Press graphic novel series The Coldest City written by Antony Johnston and Illustrated by Sam Hart. (Gary Reber)
Special features on the Blu-ray Disc™ include commentary with Director David Leitch and Editor Elisabet Ronaldsdottir; six deleted and extended scenes (HD 07:25); six featurettes: Welcome To Berlin (HD 04:33), Blondes Have More Gun (HD 07:01), Spymaster (HD 04:18), Anatomy Of A Fight (HD 07:52), Story In Motion: Agent Broughton (HD 02:16) and Story In Motion: The Chase (HD 01:38); upfront previews; and an UltraViolet digital copy.
The 2.39:1 2160p HEVC/H.265 Ultra HD HDR10/Dolby Vision picture, reviewed on a Sony Bravia Z9D 4K Ultra HD HDR display, was photographed digitally using Arri Alexa M and Arri Alexa XT camera systems at 2.8K and sourced from a 2K (not 4K) master Digital Intermediate format. Picture quality is stunning with a multitude of production and set designs rendered in cold steel blues and grays to warm, rich, and vivid hues, as well as exaggerated colors, taking advantage of a wide color gamut. Color fidelity is excellent and effectively stylized. Fleshtones are naturally hued throughout the varying lighting designs. Contrast is also excellent with deep, solid blacks and revealing shadow delineation. Resolution is superb, with fine detail revealed throughout, including close-ups of facial features, skin pores, wounds, hair, beards, clothing and object texture. The lighting design is dramatic, with bright lights effectively bright, thanks to HDR. This enhances the wide imagery contrast. This is a terrific reference-quality visual experience with engagingly diversified imagery that is engaging throughout. (Gary Reber)
The DTS:X/DTS-HD Master Audio™ 7.1-channel soundtrack delivers an engaging ear-level holosonic® presence. All four of the surround channels aggressively extend the music score and other sound effects at times with directionality. Deep bass sounds natural, with enhanced .1 LFE energy in sub-25 Hz, to add exciting impact. The music score is at times focused on eighties rock, with orchestral interludes. Atmospherics sound natural and sound effects, such as gunfire, car crashes, and explosions are sonically robust with effective bass support. Foley sound effects are effectively supportive as well. Dialogue is consistently intelligible with good spatial integration.

The Immersive Sound element is disappointing in that it does not capture far more opportunities to support the ear-level soundfield supporting the imagery on-screen. Not even the orchestral score is extended. Recording orchestral music on a sound stage with augmented height microphones is a natural means to present music with full dimensionality—though, the rock music, on this track, does have a sense of a height dimension. Instead, the Immersive Sound element is limited to sound effects such as planes flying overhead, brief ambience during a dream sequence and two other brief sequences, an alarm bell, voices overhead, rain sounds through a window and in one other scene on the street, some brief weird ambient object effects, an elevator sound, an instant of a car crash, a brief car sinking in water and accompanying water sounds, some brief distorted gunfire and shell dropping, and brief subtle fireworks. In one sequence church bells are heard overhead, but in other sequences the same church bells are not. One would think that is quite a lot, but mostly the overhead channels are silent. So much more could have been achieved, but perhaps the "cutting edge" director (as depicted in the PR) is not a fan of immersive envelopment. And yet ear-level sonics are effectively satisfying with an aggressive surround field. With the exception of so many opportunities to enlist the height dimension, this is an effectively well-executed soundtrack. (Gary Reber)