BLU-RAY REVIEW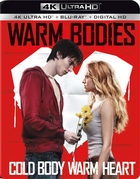 Warm Bodies 4K UltraHD
Basic Information on new release titles is posted as soon as titles are announced. Once reviewed, additional data is added to the database.
(Studio/Distributor):
Summit Entertainment
(Catalog Number):
52827
(MPAA Rating):
PG-13
(Rating Reason):
Zombie Violence and some language.
(Retail Price):
$$22.99
(Disc Type):
BD-66
(Widescreen Edition):
Yes
(Full Screen Edition):
(Running Time In Minutes):
98
(Color Type):
Color
(Chaptered/Scene Access):
Yes
(Closed Captioned):
Yes
(Regional Coding):
A
(Theatrical Year):
(Theatrical Release):
Yes
(Direct-To-Video Release):
(Disc Release Date):
10/3/2017
(THX® Digitally Mastered):
(Director):
Jonathan Levine
(Screenplay/Written By):
(Story):
(Music):
(Director Of Photography):
(Production Designer):
(Visual Effects):
(Costume Designer):
(Editor):
(Supervising Sound Editors):
(Re-Recording Mixers):
(Executive Producers):
(Co-Producers):
(Producers):
(Academy Awards):
(Principal Photography):
(Theatrical Aspect Ratio):
(Measured Disc Aspect Ratio):
(Disc Soundtrack):
Dolby Atmos, Dolby TrueHD 7.1
(Theatrical Sound):
(Theatrical Re-Issue Soundtrack):
(DTS Bit Rate):
(Dolby Digital Bit Rate):
(Additional Languages):
(French Language):
(Spanish Language):
(Subtitles):
Based on the novel by Isaac Marion, Warm Bodies is the unique romantic comedy with a paranormal twist. This a poignant tale about the power of human connection. After a zombie epidemic, R, a highly unusual zombie (Hoult), encounters Julie, a human survivor (Palmer), and rescues her from the zombie attack. Julie sees that R is different from the other zombies, and as the two form a special relationship in their struggle for survival, R becomes increasingly more human—setting off an exciting, romantic, and often comical chain of events that begins to transform the other zombies and maybe even the whole lifeless wold. (Gary Reber)
Special features include commentary with Screenwriter/Director Jonathan Levine and Actors Nicholas Hoult and Teresa Palmer; nine featurettes: Boy Meets Er, Doesn't Eat Girl (HD 09:49), R&J (HD 16:21), A Little Less Dead (HD 16:41), Extreme Zombie Makeover! (HD 10:11), A Wreck In Progress (HD 14:59), Bustin' Caps (HD 10:09), Beware The Boneys (HD 07:04), Whimsical Sweetness: Teresa Palmer's Warm Bodies Home Movies (HD 12:38), and Zombie Acting Tips With Rob Corddry (HD 04:43); nine deleted scenes with optional commentary by Director Levine (HD 11:11); the Shrug & Groan gag reel (HD 05:07); the theatrical trailer; upfront previews; and an UltraViolet digital copy.
The 2.40:1 2160p HEVC/H.265 Ultra HD HDR10/Dolby Vision picture, reviewed on a Sony Bravia Z9D 4K Ultra HD HDR display, was photographed on Kodak Vision3 film stock in Super 35 with a 2.39:1 aspect ratio and sourced from a 2K (not 4K) master Digital Intermediate format. As the 2K Digital Intermediate has been unconverted to 2160p, there is no real gain in native resolution. While photographed on film stock, grain is virtually unnoticeable. The color palette is expanded with HDR providing an aggressive assortment of nuanced hues. There are effective contrasts in color grading, depending on the dating of the proceedings with humans prior to the zombie epidemic and after. The prior exhibiting rich and warm hues and the latter grayish green but with aspects of desaturated hues that pop. In the memories of the human world, colors are rendered with rich and warm hues exhibiting a yellowish amber tone. In the zombie scenes the colors are washed in an ice-cold blue hue. Of course, fleshtones do not always appear natural in this stylized depiction. Both color schemes exhibit wonderful resolution with very fine detail exhibited throughout. The bluish veins in R's neck are highly pronounced in detail as well as the gory effects such as the texture of the "Boneys." As well, human facial features, hair, skin pores, clothing, and environmental textures are nicely detailed. Contrast is excellent, with excellent back levels and shadow delineation, as well as bright accents in scenes such as the specular reflection off the escalator at a baseball stadium. In essence, this is a sharp and nicely resolved picture with an engaging stylized color palette that is terrific. (Gary Reber)
The Dolby Atmos/Dolby TrueHD 7.1-channel soundtrack starts off with R's narration aggressively extended to the front height channels, which continues in other scenes as we hear his thoughts. As well, the "Boneys" voicing can be heard overhead. This is very effective.

Also effective as an Immersive Sound element is the orchestral score, which at times is subtle and at other times aggressively intensified and complementary to the proceedings. But not all of the music is extended to the height channels. Other sound elements heard in the height channels are rain and thunder, an instant of chirping birds, ambient sounds at a human encampment, pounding above a dome glass structure, brief military vehicles in motion, and a wall crumbling down. The sound effects are at times positioned within the spherical soundfield, but mainly are heard at ear-level. Atmospherics and sound effects extend to all four surrounds, at times aggressively, for effective holosonic® envelopment. The Boneys' attack scenes deliver directionality to the surrounds as well as gunfire. Deep bass sounds natural in all channels with added .1 LFE energy providing added heft, particularly in action scenes. The orchestral score, which occupies the soundstage wide and deep, nicely extends aggressively to the surrounds for a wonderful sense of envelopment. R's narration at ear level is nicely dimensional, extending, as noted, to the height channels. Dialogue throughout is intelligible with good spatial delineation. This is a really great soundtrack with superb fidelity, aggressive soundfield envelopment, and effective Immersive Sound elements. (Gary Reber)