BLU-RAY REVIEW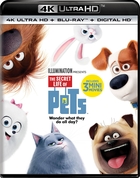 Secret Life Of Pets, The 4K UltraHD
Basic Information on new release titles is posted as soon as titles are announced. Once reviewed, additional data is added to the database.
(Studio/Distributor):
Universal Studios Home Entertainment
(Catalog Number):
61183933
(MPAA Rating):
PG
(Rating Reason):
Action and some rude humor.
(Retail Price):
$$44.98
(Disc Type):
BD-66
(Widescreen Edition):
Yes
(Full Screen Edition):
(Running Time In Minutes):
87
(Color Type):
Color
(Chaptered/Scene Access):
Yes
(Closed Captioned):
Yes
(Regional Coding):
A
(Theatrical Year):
(Theatrical Release):
Yes
(Direct-To-Video Release):
(Disc Release Date):
12/16/2016
(THX® Digitally Mastered):
(Director):
Chris Renaud & Yarrow Cheney
(Screenplay/Written By):
(Story):
(Music):
(Director Of Photography):
(Production Designer):
(Visual Effects):
(Costume Designer):
(Editor):
(Supervising Sound Editors):
(Re-Recording Mixers):
(Executive Producers):
(Co-Producers):
(Producers):
(Academy Awards):
(Principal Photography):
(Theatrical Aspect Ratio):
(Measured Disc Aspect Ratio):
(Disc Soundtrack):
Dolby Atmos, Dolby TrueHD 7.1
(Theatrical Sound):
(Theatrical Re-Issue Soundtrack):
(DTS Bit Rate):
(Dolby Digital Bit Rate):
(Additional Languages):
(French Language):
(Spanish Language):
(Subtitles):
In The Secret Life Of Pets, the quiet, perfectly happy life of a terrier named Max (C.K.) is upended when his owner, Katie (Kemper), takes in Duke (Stonestreet), a big, boisterous mutt stray she finds at the shelter whom Max instantly dislikes. When Max and his unruly new "roommate" slip away from their dog walker, they find themselves lost in the urban jungle of New York City. In an attempt to stay ahead of animal control and a rebel band of abandoned pets led by an unhinged bunny named Snowball (Hart), they put aside their differences to survive the epic journey back home. (Gary Reber)
Special features include eight featurettes: How To Make An Animated Film (HD 04:13), Anatomy Of A Scene (HD 04:46), All About The Pets (HD 06:26), Animals Can Talk: Meet The Actors (HD 03:47), Hairstylist To The Dogs (HD 03:41), The Best Of Snowball (HD 01:15), The Humans That Brought You Pets (HD 08:43), and The Making Of The Mini-Movies (HD 07:23); three mini-movies: Norman Television (HD 04:01), Weenie (HD 04:05), and Mower Minions (HD 4:27); a Hot Dog Sing-Along (HD 01:12); the Sing Trailer (HD 04:02); the "Lovely Day" lyric video (HD 02:23); GoPro: The Secret Life Of Pets (HD 02:04); upfront previews; and an UltraViolet digital copy.
The 1.85:1 2160p HEVC/H.265 Ultra HD HDR 10 pictured, reviewed on a Sony Bravia Z9D 4K Ultra HD HDR display, was photographed digitally and sourced from a 2K (not 4K) master Digital Intermediate format. As the 2K Digital Intermediate has been unconverted to 2160p, there is no real gain in native resolution. Last reviewed in Issue 213, January 2017 as a 3D Blu-ray Disc release, the 4K Ultra HD version exhibits a noticeable enhancement in fine resolution and a wider color gamut. As with the 3D release, picture quality is absolutely terrific, with a noticeably more vibrant and richer color palette and striking hues. Primaries are strong and well saturated. Duke's reddish hair is wonderfully colorful. And the white rabbit superbly contrasts with all the other homeless creatures. The cityscape is colorful as well as the underground sewer scenes. Contrast is superb, with deep blacks and excellent shadow delineation, as well as brighter whites. Resolution is excellent as well, with a bit more fine detail exhibited throughout in animal shapes, textures, and in exterior and interior objects. The outside world also is nicely delineated in urban building facades. While not as dramatic as the 3D rendering, there is a sense of natural dimensionality and depth. This is a wonderfully colorful and dynamic viewing experience with superb resolution. It is absolutely superior in every respect. (Gary Reber)
The Dolby Atmos/Dolby TrueHD 7.1-channel soundtrack delivers superb fidelity and dynamic power, with lots of atmospherics and sound effects that define the various soundscapes. Deep bass sounds natural throughout the channels, with effective enhancement provided by the .1 LFE. While the seven-channel foundation is not always activated, or for that matter the height channels, the 5.1-channel delivery is terrific, with an aggressive surround presence and engaging holosonic® impact. The orchestral score is quite dynamic and intricate, often complemented with heavy rock and a solid low-frequency foundation. Clarity and instrumental delineation are excellent. Action scenes are frequent and quite exciting. It is during these scenes that the added two channels are particularly engaged. Voice dialogue is fantastic, with superb intelligibility and diction, and is effectively integrated with the other sound elements. The dialogue delivery is fun and is sure to bring joy to the entire family.

The Immersive Sound element is complementary but generally very subtle when engaged, and limited to sound effects and ambience such as brief rain and thunder, brief boom box effect, extremely low-level cityscape and subway noise, rattling pipes, brief gurgling, a brief conveyer belt sound, a voice overhead for less than two seconds, and finally a brief chorus—that's it. The filmmakers missed so many opportunities to enhance the listening experience, including extending the music to the overhead channels. Despite the Immersive Sound disappointment, the ear-level Dolby TrueHD 7.1 soundtrack is such a wonderful experience that is reference quality throughout. (Gary Reber)