BLU-RAY REVIEW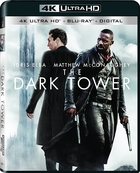 Dark Tower 4K UltraHD
Basic Information on new release titles is posted as soon as titles are announced. Once reviewed, additional data is added to the database.
(Studio/Distributor):
Sony Pictures Home Entertainment
(Catalog Number):
48812
(MPAA Rating):
PG-13
(Rating Reason):
Thematic material including sequences of gun violence and action.
(Retail Price):
$$45.99
(Disc Type):
BD-66
(Widescreen Edition):
Yes
(Full Screen Edition):
(Running Time In Minutes):
98
(Color Type):
Color
(Chaptered/Scene Access):
Yes
(Closed Captioned):
Yes
(Regional Coding):
A, B, C
(Theatrical Year):
(Theatrical Release):
Yes
(Direct-To-Video Release):
(Disc Release Date):
10/31/2017
(THX® Digitally Mastered):
(Director):
Nikolaj Arcel
(Screenplay/Written By):
(Story):
(Music):
(Director Of Photography):
(Production Designer):
(Visual Effects):
(Costume Designer):
(Editor):
(Supervising Sound Editors):
(Re-Recording Mixers):
(Executive Producers):
(Co-Producers):
(Producers):
(Academy Awards):
(Principal Photography):
(Theatrical Aspect Ratio):
(Measured Disc Aspect Ratio):
(Disc Soundtrack):
Dolby Atmos, Dolby TrueHD 7.1
(Theatrical Sound):
(Theatrical Re-Issue Soundtrack):
(DTS Bit Rate):
(Dolby Digital Bit Rate):
(Additional Languages):
(French Language):
(Spanish Language):
(Subtitles):
The last Gunslinger, Roland (Elba), has been locked in an eternal battle with the Man in Black (McConaughey), determined to prevent him from toppling The Dark Tower, which holds the universe together. With the fate of the worlds at stake, good and evil will collide in the epic battle, as only Roland can defend the Tower from the Man in Black. Based on the Dark Tower novels by Stephen King. (Gary Reber)
Special features on the Blu-ray Disc™ include six featurettes: Last Time Around (HD 09:14), The World Has Moved On… (HD 07:02), The Man In Black (HD 08:22), The Gunslinger In Action (HD 08:29), A Look Through The Keyhole (HD 03:42), and Stephen King Inspirations (HD 04:25); deleted scenes; a blooper reel (HD 02:50); seven deleted scenes (HD 06:22); upfront previews; and an UltraViolet digital copy.
The 2.40:1 2160p HEVC/H.265 Ultra HD HDR10/Dolby Vision picture, reviewed on a Sony Bravia Z9D 4K Ultra HD HDR display, was photographed digitally using Arri Alexa 65 and Arri Alexa XT camera systems at 6.5K and sourced from a 4K master Digital Intermediate format. The scenes shift back and forth between Earth and other worlds, and correspondly the image character follows. The New York City scenes are warmly hued and natural while the other world scenes exhibit a darker character, yet are realistically hued. The color palette at times is vividly hued with bright colors that pop and are richly diverse in color depth. Fleshtones are natural throughout. Contrast is excellent with deep blacks and bright whites. The HDR element is effective in highlighting bright whites and bright lights, such as in the brief hospital scene and as lighting effects elsewhere, such as the portal transfer. Resolution is excellent, especially during close-ups of facial features, skin pores, hair, beards, clothing and objects. (Gary Reber)
The Dolby Atmos/Dolby TrueHD 7.1-channel soundtrack is varied as well with a music score that weaves in and out, but subtly and aggressively, and which extends to the surrounds. Atmospherics are realistic in defining soundscapes, and sound effects boost action sequences engaged by the dark forces. Sound effects, such as gunfire and shotgun fire, are intense. Strangely, there is little surround extension from the sound effects, with surround pretty much limited to atmospherics and the music score. Deep bass is effective during certain action sequences and explosions and earthquakes.

The Immersive Sound element unfortunately is not fully realized, as numerous opportunities suggest by the scenes and the ear-level soundtrack. Instead, the music score is extended subtly to the height channels, and as well the occasional sound effect, to bolster action. But such is limited and not noticeably lost when the height channels are muted. Dialogue throughout is intelligible but wanting in spatial delineation. Overall, the ear-level sonics at times produce an effective holosonic® soundfield, but the Immersive Sound element adds little real impact to the creation of a spherical soundfield. (Gary Reber)