BLU-RAY REVIEW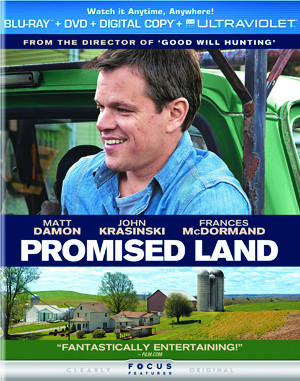 Promised Land
Basic Information on new release titles is posted as soon as titles are announced. Once reviewed, additional data is added to the database.
(Studio/Distributor):
Universal Studios Home Entertainment
(Catalog Number):
62123784
(MPAA Rating):
R
(Rating Reason):
Language
(Retail Price):
$34.98
(Disc Type):
Single Side, Dual Layer (BD-50)
(Widescreen Edition):
Yes
(Full Screen Edition):
No
(Running Time In Minutes):
107
(Color Type):
Color
(Chaptered/Scene Access):
Yes
(Closed Captioned):
Yes
(Regional Coding):
Not Indicated
(Theatrical Year):
2013
(Theatrical Release):
Yes
(Direct-To-Video Release):
No
(Disc Release Date):
04/23/13
(THX® Digitally Mastered):
No
(Director):
Gus Van Sant
(Screenplay/Written By):
(Story):
(Music):
(Director Of Photography):
(Production Designer):
(Visual Effects):
(Costume Designer):
(Editor):
(Supervising Sound Editors):
(Re-Recording Mixers):
(Executive Producers):
(Co-Producers):
(Producers):
(Academy Awards):
(Principal Photography):
(Theatrical Aspect Ratio):
(Measured Disc Aspect Ratio):
(Disc Soundtrack):
DTS HD Lossless 5.1, DTS 5.1
(Theatrical Sound):
(Theatrical Re-Issue Soundtrack):
(DTS Bit Rate):
(Dolby Digital Bit Rate):
(Additional Languages):
(French Language):
(Spanish Language):
(Chinese Language):
(Subtitles):
(Cantonese Language):
(Mandarin Language):
(Japanese Language):
(Italian Language):
(German Language):
(Portuguese Language):
In "Promised Land," corporate salesman Steve Butler (Damon), who was raised on a farm as a boy, is dispatched to the rural town of McKinley with his sales partner (McDormand) to offer much-needed relief to the economically hard-hit residents in exchange for drilling rights to their properties. What seems like an easy job for the duo quickly becomes complicated by a a respected schoolteacher (Holbrook), a slick environmental activist (Krasinski), and Butler's interest in a local woman (DeWitt). As they grapple with a surprising array of both open hearts and closed doors, the outsiders soon discover the strength of an American small town at a crossroads. (Gary Reber)
Special features include a making-of featurette (HD 10:38), extended scenes (HD 01:52), upfront previews, BD-Live functionality, and an UltraViolet digital copy.
The 1080p AVC picture appears natural enough but exhibits an overall desaturated, washed-out look, which casts a bleakness over the imagery. Contrast is problematic at times, with the appearance of blacks that are either crushed or muted. The color palette exhibits hues that are subdued under the natural lighting scheme. Resolution, however, is generally good, particularly in close-ups of facial features and object texture. Still, the overall impression is real, with a documentary flair that heightens the realism. (Gary Reber)
The DTS-HD Master Audio™ 5.1-channel soundtrack is a bit rough, especially with respect to the dialogue, which is presented in varying levels across the front three channels. The result is an unnatural dialogue presence and total lack of natural spatial integration. Ambient effects are often subtle and the occasional sound effect extends to the surrounds, though, never aggressively strong. Likewise, .1 LFE utilization is limited. The nicely recorded music score provides an effective accompaniment to the enlightening and heartfelt storytelling. Overall, this is an under-powering sonic experience but still does justice to the experience. (Gary Reber)