BLU-RAY REVIEW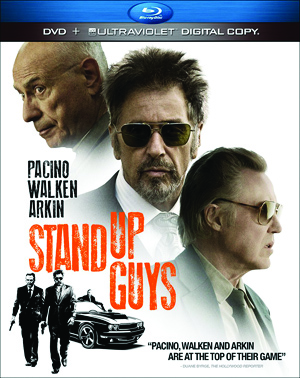 Stand Up Guys
Basic Information on new release titles is posted as soon as titles are announced. Once reviewed, additional data is added to the database.
(Studio/Distributor):
Lionsgate Home Entertainment
(Catalog Number):
43134
(MPAA Rating):
R
(Rating Reason):
Language, sexual content, violence and brief drug use
(Retail Price):
$39.99
(Disc Type):
Single Side, Dual Layer (BD-50)
(Widescreen Edition):
Yes
(Full Screen Edition):
No
(Running Time In Minutes):
95
(Color Type):
Color
(Chaptered/Scene Access):
Yes
(Closed Captioned):
Yes
(Regional Coding):
A
(Theatrical Year):
2013
(Theatrical Release):
Yes
(Direct-To-Video Release):
No
(Disc Release Date):
05/21/13
(THX® Digitally Mastered):
No
(Director):
Fisher Stevens
(Screenplay/Written By):
(Story):
(Music):
(Director Of Photography):
(Production Designer):
(Visual Effects):
(Costume Designer):
(Editor):
(Supervising Sound Editors):
(Re-Recording Mixers):
(Executive Producers):
(Co-Producers):
(Producers):
(Academy Awards):
(Principal Photography):
(Theatrical Aspect Ratio):
(Measured Disc Aspect Ratio):
(Disc Soundtrack):
Dolby Digital 5.1, DTS HD Lossless 5.1
(Theatrical Sound):
(Theatrical Re-Issue Soundtrack):
(DTS Bit Rate):
(Dolby Digital Bit Rate):
(Additional Languages):
(French Language):
(Spanish Language):
(Chinese Language):
(Subtitles):
(Cantonese Language):
(Mandarin Language):
(Japanese Language):
(Italian Language):
(German Language):
(Portuguese Language):
In "Stand Up Guys," Hollywood legends Al Pacino, Christopher Walken, and Alan Arkin star as three ex-gangsters who reunite for one unforgettable evening. However, one of the friends is keeping a dangerous secret—and his time to find an acceptable alternative is running out. As the sun rises on the guys' reunion, their position becomes more and more desperate and they finally confront their pasts once and for all. (Gary Reber)
Special features include commentary with Director Fisher Stevens; the featurettes "The Lowdown On Making Stand Up Guys" (HD 11:54), "The Stand Up Songs Of Jon Bon Jovi" (HD 04:46), and "American Muscle: The Stand Up Stunt Driving Scenes" (HD 05:03); two deleted scenes (HD 02:35); upfront previews; and an UltraViolet digital copy.
The 1080p AVC picture is nicely presented with excellent contrast and shadow delineation, as the scenes virtually all take place at night. Blacks are deep and revealing. The color palette is naturally hued with warm and rich hues. Fleshtones are naturally rendered throughout. Resolution is excellent, with fine detail evident throughout, especially during close-ups of facial features, air, clothing, and object texture. This is a really fine visual experience that looks terrific. (Gary Reber)
The DTS-HD Master Audio™ 5.1-channel soundtrack is dialogue focused with an intelligible presence and decent spatial integration. Atmospherics are limited in terms of surround envelopment. The blues-tinged music score has punch, is well recorded, and envelops the soundfield with an aggressive surround presence. Bass energy is supportive in the .1 LFE channel but never aggressively present. The picture is absolutely pristine, with detail that really pops. As such, this is a wonderful engaging visual experience. (Gary Reber)