BLU-RAY REVIEW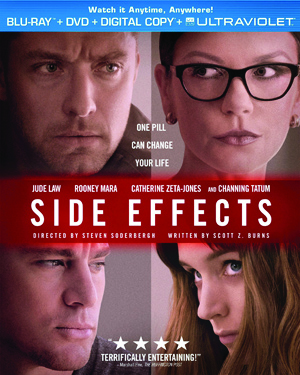 Side Effects
Basic Information on new release titles is posted as soon as titles are announced. Once reviewed, additional data is added to the database.
(Studio/Distributor):
Universal Studios Home Entertainment
(Catalog Number):
61123859
(MPAA Rating):
R
(Rating Reason):
Sexuality, nudity, violence and language
(Retail Price):
$34.98
(Disc Type):
Single Side, Dual Layer (BD-50)
(Widescreen Edition):
Yes
(Full Screen Edition):
No
(Running Time In Minutes):
107
(Color Type):
Color
(Chaptered/Scene Access):
Yes
(Closed Captioned):
Yes
(Regional Coding):
Not Indicated
(Theatrical Year):
2013
(Theatrical Release):
Yes
(Direct-To-Video Release):
No
(Disc Release Date):
05/21/13
(THX® Digitally Mastered):
No
(Director):
Steven Soderbergh
(Screenplay/Written By):
(Story):
(Music):
(Director Of Photography):
(Production Designer):
(Visual Effects):
(Costume Designer):
(Editor):
(Supervising Sound Editors):
(Re-Recording Mixers):
(Executive Producers):
(Co-Producers):
(Producers):
(Academy Awards):
(Principal Photography):
(Theatrical Aspect Ratio):
(Measured Disc Aspect Ratio):
(Disc Soundtrack):
DTS HD Lossless 5.1
(Theatrical Sound):
(Theatrical Re-Issue Soundtrack):
(DTS Bit Rate):
(Dolby Digital Bit Rate):
(Additional Languages):
(French Language):
(Spanish Language):
(Chinese Language):
(Subtitles):
(Cantonese Language):
(Mandarin Language):
(Japanese Language):
(Italian Language):
(German Language):
(Portuguese Language):
Side Effects is a sexy psychological thriller about a bitter pill experience. After her husband (Tatum) is released from prison for insider trading, Emily (Mara) begins suffering from terrifying anxiety and turns to psychiatrist Dr. Banks (Law) for help. But when Banks prescribes an experimental drug for her, the side effects have chilling and deadly consequences. (Gary Reber)
Special features include four featurettes: Behind-The-Scenes (HD 02:56), Aliza Website Experience (HD 05:21), Ablixa Commercial (HD 0:54), and Intenin Commercial (HD 0:48); upfront previews; BD-Live functionality; and an UltraViolet digital copy.

The 1.84:1 1080p AVC picture appears natural and realistic. The focus is on people and relationships, and as such, the visuals are mostly interior set and focused on people's expressive emotions. Fleshtones appear accurately and naturally rendered throughout. The color palette is naturally hued with, at times, warm and rich tones. Resolution is revealing of detail, especially in facial features and hair, as well as textures. Contrast is well balanced with deep blacks and revealing shadow delineation. This is a realistic visual experience that plays well in the storytelling. (Gary Reber)
The DTS-HD Master Audio™ 5.1-channel soundtrack is essentially dialogue focused, which sounds natural and spatially integrated. Atmospherics provide sonic support to fill in the soundscapes but are limited to the front channels. Deep bass is limited. Surround envelopment is limited pretty much to the music score. Overall, this is a basic soundtrack, with the focus on dialogue. (Gary Reber)