BLU-RAY REVIEW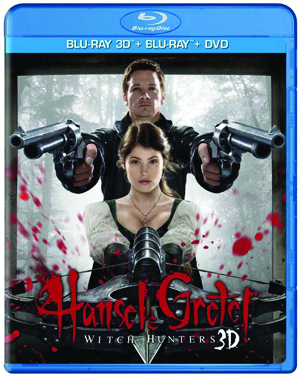 Hansel & Gretel: Witch Hunters 3D
Basic Information on new release titles is posted as soon as titles are announced. Once reviewed, additional data is added to the database.
(Studio/Distributor):
Paramount Home Entertainment
(Catalog Number):
7912947
(MPAA Rating):
R / Unrated
(Rating Reason):
Strong fantasy horror violence and gore, brief sexuality/nudity and language
(Retail Price):
$49.99
(Disc Type):
Single Side, Dual Layer (BD-50)
(Widescreen Edition):
Yes
(Full Screen Edition):
No
(Running Time In Minutes):
87 / 97
(Color Type):
Color
(Chaptered/Scene Access):
Yes
(Closed Captioned):
Yes
(Regional Coding):
Not Indicated
(Theatrical Year):
2013
(Theatrical Release):
Yes
(Direct-To-Video Release):
No
(Disc Release Date):
06/11/13
(THX® Digitally Mastered):
No
(Director):
Tommy Wirkola
(Screenplay/Written By):
(Story):
(Music):
(Director Of Photography):
(Production Designer):
(Visual Effects):
(Costume Designer):
(Editor):
(Supervising Sound Editors):
(Re-Recording Mixers):
(Executive Producers):
(Co-Producers):
(Producers):
(Academy Awards):
(Principal Photography):
(Theatrical Aspect Ratio):
(Measured Disc Aspect Ratio):
(Disc Soundtrack):
Dolby TrueHD 5.1, Dolby Digital 5.1
(Theatrical Sound):
(Theatrical Re-Issue Soundtrack):
(DTS Bit Rate):
(Dolby Digital Bit Rate):
(Additional Languages):
(French Language):
(Spanish Language):
(Chinese Language):
(Subtitles):
(Cantonese Language):
(Mandarin Language):
(Japanese Language):
(Italian Language):
(German Language):
(Portuguese Language):
Hansel & Gretel: Witch Hunters tells the story of the brother and sister team seeking to avenge their parents' deaths. But after a lifetime of hunting witches, Hansel and Gretel now must face an evil greater than anything they've seen: a terrifying new threat so massive, it could destroy the world as we know it. (Gary Reber)
Both the theatrical 3D version and the unrated HD non-3D version are available. Special features include three featurettes: Reinventing Hansel & Gretel (HD 15:41), The Witching Hours (HD 09:01), and Meet Edward The Troll (HD 05:25), upfront previews, and an UltraViolet digital copy.

The 2.38:1 1080p MVC 3D picture is limited to the theatrical version. Stereo D performed the 3D conversion, with additional stereographic photography by Stereotec, and is well balanced and dimensional throughout, especially during the exterior scenes. Out-of-screen elements penetrate the viewer with gore and debris. Otherwise, the imagery is spatially engaging, though, some segments appear a bit flat. The color palette is essentially dark and cold, with hues that pop, for dramatic effect. Contrast is excellent with deep blacks and revealing shadow delineation. Fleshtones are naturally hued. The 3D version is preferred to the 2D, simply for the added sense of perspective and spatial delineation. This is a nicely produced 3D visual experience that is visually engaging throughout. (Gary Reber)
The Dolby® TrueHD 5.1-channel soundtrack is extremely active in the .1 LFE channel and surrounds, with aggressive directionalization. Atmospherics and sound effects energize the soundscapes and provide bolstered dynamics and sonic engagement. Panning is aggressive and sound effects are often riveting. The orchestral/choral music score extends wide and deep and into the surrounds but sounds compressed and restricted. Dialogue is ADR produced throughout, with a forward presence that lacks spatial integration. Still, the dynamics, envelopment, sound effects, and deep sub-25 Hz bass effectively deliver a holosonic® immersive experience. (Gary Reber)