BLU-RAY REVIEW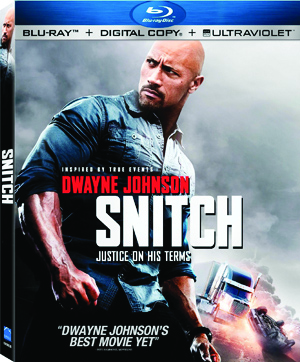 Snitch
Basic Information on new release titles is posted as soon as titles are announced. Once reviewed, additional data is added to the database.
(Studio/Distributor):
Summit Entertainment
(Catalog Number):
66126826
(MPAA Rating):
PG-13
(Rating Reason):
Drug content and sequences of violence
(Retail Price):
$39.99
(Disc Type):
Single Side, Dual Layer (BD-50)
(Widescreen Edition):
Yes
(Full Screen Edition):
No
(Running Time In Minutes):
122
(Color Type):
Color
(Chaptered/Scene Access):
Yes
(Closed Captioned):
Yes
(Regional Coding):
A
(Theatrical Year):
2013
(Theatrical Release):
Yes
(Direct-To-Video Release):
No
(Disc Release Date):
06/11/13
(THX® Digitally Mastered):
No
(Director):
Ric Roman Waugh
(Screenplay/Written By):
(Story):
(Music):
(Director Of Photography):
(Production Designer):
(Visual Effects):
(Costume Designer):
(Editor):
(Supervising Sound Editors):
(Re-Recording Mixers):
(Executive Producers):
(Co-Producers):
(Producers):
(Academy Awards):
(Principal Photography):
(Theatrical Aspect Ratio):
(Measured Disc Aspect Ratio):
(Disc Soundtrack):
Dolby Digital 5.1, DTS HD Lossless 7.1
(Theatrical Sound):
(Theatrical Re-Issue Soundtrack):
(DTS Bit Rate):
(Dolby Digital Bit Rate):
(Additional Languages):
(French Language):
(Spanish Language):
(Chinese Language):
(Subtitles):
(Cantonese Language):
(Mandarin Language):
(Japanese Language):
(Italian Language):
(German Language):
(Portuguese Language):
In Snitch, a successful businessman (Johnson) learns his son faces 10 tough years in a Federal hole for drug possession. Convinced it was a setup, he volunteers to become an undercover informant and infiltrate a ruthless cartel. Now, with his back against the wall and his life totally on the line, he must expose the true criminals before they discover his identity. (Gary Reber)
Special features include commentary with Director Ric Roman Waugh and Editor Jonathan Chibnall; a making-of featurette covering casting, set design, and inspiration (HD 49:37); four deleted scenes (HD 05:35); the theatrical trailer; upfront previews; and an UltraViolet digital copy.

The 2.39:1 1080p AVC picture is natural in appearance, with strong primaries and saturation, yet is never exaggerated. Contrast is well balanced with deep, solid blacks and revealing shadow delineation, which is particularly in the numerous darker scenes. Fleshtones are naturally hued throughout. Resolution is decent, though, somewhat soft overall. This is an effective visual experience dealing with drug cartel activity in the United States. The imagery and cinematography nicely complement the storytelling and conveys a sense of realism. (Gary Reber)
The DTS-HD Master Audio™ 7.1-channel soundtrack builds to intensity with cartel warfare and heavy truck transport under fire. During such segments the surround channels dynamically and aggressively engage, with the added two channels positioned to the back of the soundfield instead of to the 90-degree sides. Therefore, depending on the particular home theatre loudspeaker channel, rewiring may be required. Still, the 7.1-channel properly positioned is well worth it. The sound is immensely immersive with directionalized atmospherics and sound effects engaged. The orchestral music score further complements the sense of holosonic® envelopment with an expansive presence in the front soundstage and the surrounds. Bass extension is powerful at times in the .1 LFE channel and heightens the intensity of the action. Dialogue remains clear and intelligible with decent spatial integration. This is an action-packed thrill ride of a soundtrack that sounds powerful and enveloping. (Gary Reber)