BLU-RAY REVIEW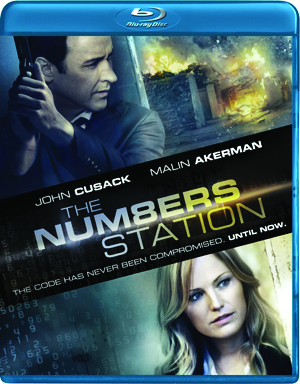 Numbers Station, The
Basic Information on new release titles is posted as soon as titles are announced. Once reviewed, additional data is added to the database.
(Studio/Distributor):
RLJ Entertainment
(Catalog Number):
CMC8467BDLIT
(MPAA Rating):
R
(Rating Reason):
(Retail Price):
$29.97
(Disc Type):
Single Side, Single Layer (BD-25)
(Widescreen Edition):
Yes
(Full Screen Edition):
No
(Running Time In Minutes):
89
(Color Type):
Color
(Chaptered/Scene Access):
Yes
(Closed Captioned):
Yes
(Regional Coding):
A
(Theatrical Year):
2013
(Theatrical Release):
Yes
(Direct-To-Video Release):
No
(Disc Release Date):
05/28/13
(THX® Digitally Mastered):
No
(Director):
Kasper Barfoed
(Screenplay/Written By):
(Story):
(Music):
(Director Of Photography):
(Production Designer):
(Visual Effects):
(Costume Designer):
(Editor):
(Supervising Sound Editors):
(Re-Recording Mixers):
(Executive Producers):
(Co-Producers):
(Producers):
(Academy Awards):
(Principal Photography):
(Theatrical Aspect Ratio):
(Measured Disc Aspect Ratio):
(Disc Soundtrack):
DTS HD Lossless 5.1
(Theatrical Sound):
(Theatrical Re-Issue Soundtrack):
(DTS Bit Rate):
(Dolby Digital Bit Rate):
(Additional Languages):
(French Language):
(Spanish Language):
(Chinese Language):
(Subtitles):
(Cantonese Language):
(Mandarin Language):
(Japanese Language):
(Italian Language):
(German Language):
(Portuguese Language):
After his latest mission goes disastrously wrong, veteran CIA black ops agent Emerson Kent (Cusack) is given one last chance to prove he still has what it takes to do his job. His new assignment: guarding Katherine (Akerman), a code operator at a top-secret remote CIA Numbers Station where encrypted messages are sent and received. When an elite team of heavily armed assailants lays stage to the station, Emerson and Katherine suddenly find themselves in a life-or-death struggle against an unknown enemy. With the station compromised and innocent lives at stake, they must stop the deadly plot before it's too late. (Gary Reber)
Special features include a making-of featurette (HD 14:26) and upfront previews.

The 2.38:1 1080p AVC picture was photographed with the Arri Alexa by cinematographer Óttar Guonason and exhibits a film-like texture with digital clarity. Image-wise, the natural realism is heightened with a filmic rawness. Contrast is well balanced with deep, inky blacks and revealing shadow delineation, which is critical to the storytelling within an underground Suffok bunker. Colors are deeply hued and never exaggerated or oversaturated with highlights to emphasize the bunker's environs. Fleshtones appear natural under the bunker's dim lighting. Overall, the picture exhibits an effective realism and dark essence. (Gary Reber)

The DTS-HD Master Audio™ 5.1-channel soundtrack is extremely aggressive and powerful with respect to low-frequency energy. This presents a serious challenge for the .1 LFE subwoofer channel, with bass that extends powerfully to sub-25 Hz frequencies. The suspenseful score provides an effective complement to the intensity of the storytelling. Gunfire and explosions provide intense realism. Subterranean effects enhance the sense of being underground in a heavily fortified facility. The quieter moments are nicely nuanced with atmospherics and sound effects and dialogue that sounds natural, though, wanting in spatial integration. This is a forceful and dynamic-sounding sonic experience that pushes the low-frequency capabilities of a system. (Gary Reber)