BLU-RAY REVIEW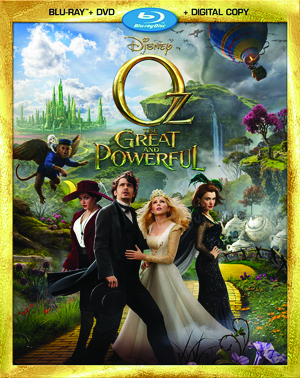 Oz The Great And Powerful 3D
Basic Information on new release titles is posted as soon as titles are announced. Once reviewed, additional data is added to the database.
(Studio/Distributor):
Walt Disney Home Entertainment
(Catalog Number):
111607
(MPAA Rating):
PG
(Rating Reason):
Sequences of action and scary images, and brief mild language
(Retail Price):
$44.99
(Disc Type):
Single Side, Dual Layer (BD-50)
(Widescreen Edition):
Yes
(Full Screen Edition):
No
(Running Time In Minutes):
130
(Color Type):
Color With B/W Sequences
(Chaptered/Scene Access):
Yes
(Closed Captioned):
Yes
(Regional Coding):
A, B & C
(Theatrical Year):
2013
(Theatrical Release):
Yes
(Direct-To-Video Release):
No
(Disc Release Date):
06/11/13
(THX® Digitally Mastered):
No
(Director):
Sam Raimi
(Screenplay/Written By):
(Story):
(Music):
(Director Of Photography):
(Production Designer):
(Visual Effects):
(Costume Designer):
(Editor):
(Supervising Sound Editors):
(Re-Recording Mixers):
(Executive Producers):
(Co-Producers):
(Producers):
(Academy Awards):
(Principal Photography):
(Theatrical Aspect Ratio):
(Measured Disc Aspect Ratio):
(Disc Soundtrack):
Dolby Digital 5.1, DTS HD Lossless 7.1
(Theatrical Sound):
(Theatrical Re-Issue Soundtrack):
(DTS Bit Rate):
(Dolby Digital Bit Rate):
(Additional Languages):
(French Language):
(Spanish Language):
(Chinese Language):
(Subtitles):
(Cantonese Language):
(Mandarin Language):
(Japanese Language):
(Italian Language):
(German Language):
(Portuguese Language):
In Oz The Great And Powerful, Oscar Diggs (Franco), a small-time circus magician with dubious ethics, is hurled away from dusty Kansas to the vibrant Land of Oz. At first he thinks he's hit the jackpot. Fame and fortune are his for the taking. That is until he meets three witches: Theodora (Kunis), Evanora (Weisz), and Glinda (Williams), who are not convinced he is the great wizard everyone's been expecting. Reluctantly drawn into the epic problems facing the Land of Oz and its inhabitants, Oscar must find out who is good and who is evil before it is too late. Putting his magical arts to use through illusion, ingenuity, and even a bit of wizardry, Oscar transforms himself not only into a great wizard but into a better man as well. Based on the works of L. Frank Baum. (Gary Reber)
Special features include the Bonus View second screen experience The Magic Of Oz The Great And Powerful, available as a free downloadable App. The App provides exclusive access to exclusive content including: The Enchanting Characters And Creatures Of Oz, The Sounds Of Magical Oz, Sleight Of Hand: Zach Braff Puppet Theater, and Mariah Carey Music Video. Also on the disc are bloopers (HD 05:06); My Journey In Oz by James Franco (HD 21:43); Mr. Elfman's Musical Concoctions (HD 07:13); four other featurettes: China Girl And The Suspension Of Disbelief (HD 05:26), Before Your Very Eyes: From Kansas To Oz (HD 11:02), Mila's Metamorphosis (HD 07:43), and Walt Disney And The Road To Oz (HD 10:13); upfront previews; and a digital copy.

The 2.39:1 1080p MVC 3D picture was photographed with the Red Epic system mounted to the 3Ality Technica Atom 3D rig. The source format was Redcode Raw (5K) dual-strip 3D. Theatrically, the movie was shown as an IMAX® DMR blow-up (dual-strip 3D) 70 mm (horizontal) and D-Cinema 3D. The opening 1.33:1 black-and-white sequence is nicely filmic and dimensional. Color fidelity is nicely saturated with warm, rich, and vibrant hues. The texture is filmic, with at times, a nuanced filtered veil that permeates the imagery. This is a stylized effect that varies throughout the picture. Fleshtones are richly hued. Contrast is balanced with deep, solid blacks and revealing shadow delineation. The 3D dimensionality is terrific, with natural perspective and depth perception. The main characters occupy the frontal plane of the frame, with background depth supporting the sense of dimension. The picture exhibits effective out-of-screen negative parallax imagery that heightens the action sequences with visual punch. But overall, the 3D effectively puts the viewer in the scene as an invisible observer. Some of the scenes are absolutely breathtaking in dimensional scope and enhance the scope of the Land of Oz grander. Resolution is generally softly focused, with touches of fine detail exhibited throughout. But overall the picture does not exhibit the nuanced detail that the Red Epic system is capable of capturing or that Director Sam Raimi would allow. But the scale of the production design, costumes, and overall magnitude of the sets is often stunning, with special visual effects further enhancing the visual impact of the 3D presentation. This is a visually spectacular and stunning 3D presentation that is thoroughly visually engaging. (Gary Reber)
The DTS-HD Master Audio™ 7.1-channel soundtrack is an epic sonic experience, with an effective enveloping presence heightened with intense deep sub-25 Hz bass in the .1 LFE channel. The sound effects and atmospherics are often bombastic and powerfully dynamic, with directionalized panning and positioning throughout the soundfield. While the added two channels are positioned to the rear of the soundfield, the sense of fuller immersion is presented with heightened intensity. Danny Elfman's orchestral score is sweeping, with at times tremendous energy, including deep organ and percussion, as well as softer sequences of choral and strings. The music extends aggressively to the surrounds, to provide an immersive sense of holosonic® spaciousness, though, fidelity sounds a bit compressed and veiled. Dialogue is consistently intelligible, even during the loudest segments, but can sound forward and not well integrated spatially. Overall, this is an energetic and dynamic-sounding sonic experience with plenty of effective impactful deep bass energy. (Gary Reber)