TRINNOV TO RELEASE A MAJOR SOFTWARE UPDATE TO THE ALTITUDE PLATFORM
March 30, 2023
Press Release
Trinnov Audio, a pioneer in active acoustic technologies, designer and manufacturer of reference audio processors for home theaters, high-end hi-fi, professional audio and commercial cinemas, is pleased to announce the release of its latest software update, version 4.3.1. This ambitious release provides multiple improvements and new features to its already acclaimed Trinnov Optimizer technology.
The 4.3.1 update will be available during the third week of April, on all Altitude16 and Altitude32 units, regardless of age, and like all Altitude upgrades, at no cost.
This software upgrade brings improvements in multiple areas:
Strengthens calibrations by improving rejection of ambient noise
Improves delay alignment of subwoofers through Bass Management
Enhances the Excursion Curve function and enables separate curves for each speaker
Provides users with a set of optional predefined target curves
Adds an option to reduce Pre-Ringing of FIR filters
Improves the calibration of Active Crossovers
ADAPTIVE PRE-EMPHASIS FOR CALIBRATIONS
One of the issues facing accurate audio calibrations is combating the signal-to-noise ratio (technically crest factor) inside a room. This is particularly true regarding low-frequency measurements where often inaudible noise, such as an HVAC unit or even outside traffic noise, can corrupt the calibration.
To correct this potential problem and achieve more robust and reliable measurements, 4.3.1 adds a new feature called Adaptive Pre-emphasis.
By measuring the room's noise floor and making rapid computational adjustments, Adaptive Pre-emphasis rejects the background noise measured during the calibration.
EXCURSION CURVE ENHANCEMENTS
The Altitude's Excursion Curve feature determines the maximum amount of boost and cut the Optimizer is permitted to apply when correcting the amplitude response to match a target curve.
In addition to Adaptive Pre-emphasis, the new firmware offers an Adaptive Limiter Excursion Curve, which is based on the Adaptive Pre-emphasis computations. The Adaptive Limiter provides an extra level of protection against excessive correction where ambient noise is mistaken for an actual signal. Calibrators will also rejoice in knowing that the Excursion Curve is no longer applied on a global basis to all speakers and is now available on a per-speaker basis, enabling finer system tuning when needed.
REDUCED PRE-RINGING
A somewhat controversial topic in the audio calibration world is pre-ringing when FIR filters are used for correction. Whether pre-ringing is an audible phenomenon or not, it is an issue some wish to address. Since Trinnov's core expertise and focus is on advanced signal processing applied to digital acoustics, 4.3.1 offers an advanced setting that enables Pre-ringing reduction. This enables advanced calibrators to use the Optimizer's FIR length and reference settings to fine tune filter resolution and phase correction without audible artifacts.
PREDEFINED TARGET CURVES
Until now, there has only been one predefined target curve in Altitude processors, which is a flat response curve. While this may be suitable for a studio or near-field environment, it is not ideal for a home theater. This meant that alternative target curves would have to be created by the calibrator or imported from a previous curve.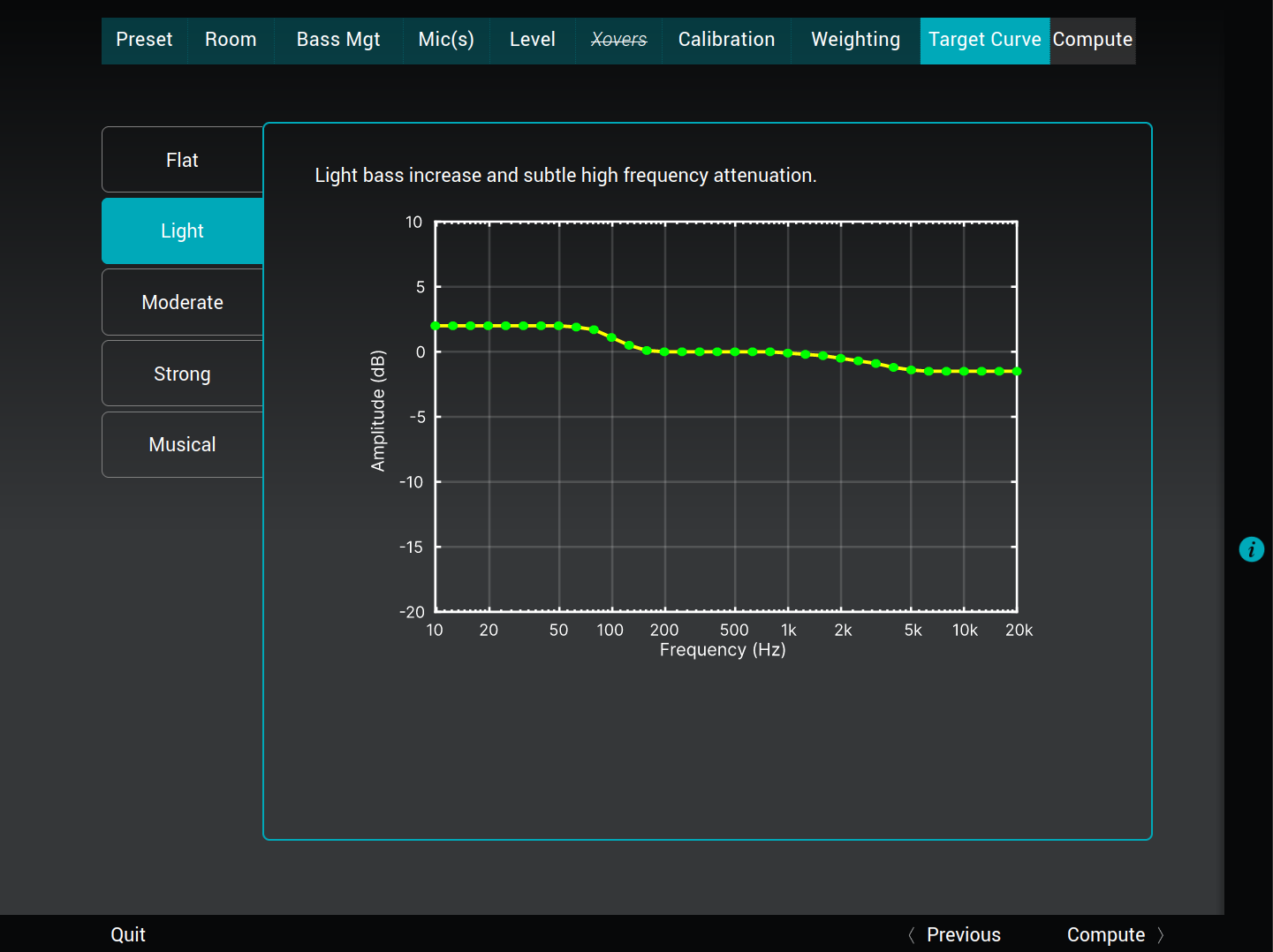 With the release of 4.3.1, there are now five optional predefined target curves which are as follows:

1. Flat: for those that wish to customize from scratch
2. Light: light bass increase and subtle high-frequency attenuation (displayed above)
3. Moderate: moderate bass increase and moderate high-frequency attenuation
4. Musical: a target curve balanced towards listening to music
5. Strong: strong bass increase and heavier high-frequency attenuation
ENHANCED SUBWOOFER ALIGNMENT
One of the more significant refinements in this firmware revision is improved Bass Management Delay Alignment. We have significantly improved the way our bass management time aligns each subwoofer, taking into account the exact characteristics of the selected bass management filters. This setting uses a computational algorithm that takes just a few moments to calculate.
IMPROVES ACTIVE XOVER CALIBRATION
Also, 4.3.1 improves Active Xover Calibration by disabling low pass filters during measurement. By doing so, impulse peak detection is easier and more accurate, especially for low-frequency drivers with a low crossover frequency.
BUG FIXES
There is one bug fix in this release, which corrects a small bug found in the Phase Target Curve. This function is only for extremely advanced users in exceptional circumstances. It is, nonetheless, corrected.
BEFORE DOWNLOADING
Before downloading and implementing version 4.3.1 firmware, Trinnov recommends that users download the release notes. Following the release notes will help ensure that users do not override and lose their existing settings or calibrations.
Here are the instructions on downloading the latest firmware onto an existing Trinnov Altitude16 or Altitude32.