Barco Residential Introduces The Nerthus Projection Platform
Barco Residential, a leader in high-end home theater technology, is set to dazzle attendees at CEDIA 2023 with the debut of Nerthus, the flagship projector in their highly anticipated Series 4 projector line-up.
September 6, 2023
Press Release
Nerthus , named after the deity associated with prosperity and peace, is poised to redefine the home theater experience. With an impressive 32,000 lumens and enhanced contrast, this projector covers an astounding 100% of the REC.2020 color gamut. Equipped with cutting-edge native 4K DLP Cinema® chips from Texas Instruments and the acclaimed Barco Alchemy ICMP-X (Integrated Cinema Media Processor), Nerthus promises a truly immersive cinematic experience. Furthermore, it offers versatility through a wide range of lenses, ensuring flexible installation options. Users can enjoy both DCI encrypted content and their favorite 4K HDR consumer content via HDMI 2.0 with HDCP 2.2.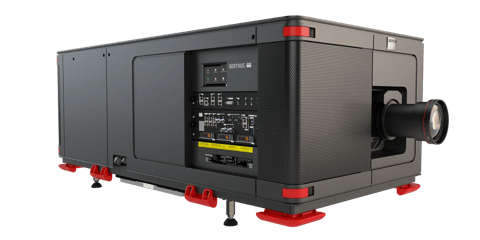 In addition, the Barco Residential Booth (#3901) will showcase a breathtaking 208" Bifrost Native 5K Cinemascope DVLED wall, complemented by an incredible sound experience courtesy of a TPI Movement and Storm Audio combo.
But that's not all Barco Residential has in store for CEDIA 2023 attendees.
15-30 Minute LED Presentations @ Barco Residential Booth #3901
Catch these informative presentations on Thursday, September 7th, at 10:00am, 1:00pm, and 4:00pm, as well as on Friday, September 8th, at the same times.
Barco Residential – 90 Minute Deep Dive—DVLED & DCI Projector Training
Delve deeper into the world of DVLED and DCI Projectors with limited-seat training sessions on Thursday, September 7th, from 2:00pm to 3:30pm and Friday, September 8th, at the same time. Register for these sessions at Eventbrite and Eventbrite.
Barco Njord CS Projector Demo @ Trinnov Booth #4233
Experience an immersive audio demo featuring Trinnov Audio's WaveForming technology. This extraordinary presentation, hosted by Trinnov Audio and in partnership with Barco Residential, Ascendo, madVR Labs, Kaleidescape, Seymour-Screen Excellence, and Officina Acustica, showcases the pinnacle of audio and video performance in private cinema.
Join Barco at the D-Tools 25th Anniversary Happy Hour
Raise a toast to D-Tools' 25th Anniversary with Barco Residential on Thursday, September 7th, from 3:00pm to 5:00pm at booth #2743.
Barco Projectors on display
Explore Barco projectors at various partner booths:
Njord (1.78:1) at Stewart Filmscreen Booth #4139, Seymour-Screen Excellence Booth #SR10, and L-Acoustics Booth #4316
Njord Cinemascope (2.37:1) at Screen Innovations Booth #1832.
Barco Residential invites you to join them at CEDIA 2023 for an unforgettable experience in cutting-edge home theater technology. For more information about their products and events, please visit Barco Residential.