October 13, 2008

Revel® Expands Concerta™ In-Ceiling & In-Wall Loudspeaker Line With New IC6T2 And IW80

Company Introduces Its First In-Ceiling System for Single-Speaker Stereo Applications, the IC6T2, and Its Largest Concerta™ In-Wall Loudspeaker to Date, the IW80

[The following is a release from Revel]


Recent News

October 18, 2014
October 17, 2014
October 17, 2014
October 17, 2014
October 17, 2014
October 16, 2014
October 15, 2014
October 13, 2014
October 7, 2014


Leading high-performance loudspeaker manufacturer Revel® has expanded its Concerta™ In-Ceiling & In-Wall Loudspeakers, an affordable series of architectural loudspeakers that combine uncompromised Revel sound and versatility. The direct result of an ongoing R&D initiative utilizing the vast resources of parent company Harman International Industries, the two new models are the IC6T2 6-1/2" In-Ceiling Loudspeaker and the IW80 8" 2-way In-Wall Loudspeaker. Both feature a high-output, low distortion woofer with a micro ceramic composite (MCC) cone, pivoting tweeter (also MCC) with integral waveguide, high-order crossover network, boundary compensation switch and 3-position tweeter level control. Additionally, the IC6T2 is the first Concerta in-ceiling system designed for single-speaker stereo applications.

Like all Revel loudspeakers, the Concerta IC6T2 and the IW80 benefit from Revel's innovative technologies, rigorous engineering standards and comprehensive listening evaluations. Most in-wall/in-ceiling loudspeakers are voiced to be used without their grills; however, the Concerta In-Wall & In-Ceiling Loudspeakers' tweeters have been designed with a switch for both "grill on" and "grill off" applications. This ensures the speakers are accurately calibrated to provide the highest quality sound (compensating for the effect of the grill being on or off), while allowing the Concerta Series In-Wall & In-Ceiling Loudspeakers to be integrated into the most demanding listening spaces. The low-frequency and high-frequency driver diaphragms are constructed of micro ceramic composite (MCC), a new material created by anodizing both sides of an aluminum core, yielding added strength and stiffness with virtually no additional weight. The speakers also employ Revel's waveguide technology for consistent sound quality on- and off-axis, while a sophisticated high-order crossover network contributes to a wider dynamic range and lower distortion. In addition, a boundary compensation switch is provided for installations near secondary walls.

Designed for single-speaker stereo applications, the IC6T2 is a 6 Ohm in-ceiling loudspeaker that employs a high-output, dual voice coil 6-1/2" (165mm) woofer with dual 3/4" (19mm) high-frequency drivers. This unique speaker combination is able to deliver powerful, tight, uncolored low and mid frequencies from its proprietary woofer, while a unique bridge design splays the dual tweeters outward, reducing acoustical interference for clear, uncolored high frequencies and enhanced stereo imaging. The IC6T2 has a bandwidth of 45Hz to 22kHz (-6dB), crossover is 2-way at 2.2kHz and it has a sensitivity of 88dB (both channels driven). In addition, the IC6T2 has a diameter of 9-1/4" (235mm) and weighs 3.5 lbs (1.6kg).

The largest of the Concerta In-Wall Loudspeakers, the IW80 is an 8 Ohm in-wall loudspeaker that employs a high-output, low distortion 8" (200mm) woofer with a 1" (25mm) high-frequency driver. Capable of delivering realistic bass with uncolored mid range and natural high frequencies, the IW80 has a bandwidth of 40Hz to 40kHz (-6dB), crossover is 2-way at 2.4kHz, and it has a sensitivity of 89dB. The IW80 measures 10-1/4" (259mm) W by 13-7/16" (341mm) H and weighs 5.9 lb (2.7kg).

Additionally, the IC6T2 In-Ceiling and the IW80 In-Wall Loudspeakers can be combined with Revel's new Concerta B120 Powered Subwoofer for a truly dynamic full-range listening experience. The affordable Revel Concerta In-Ceiling & In-Wall Loudspeakers represent the pinnacle in performance and design standards, carrying on the Revel tradition of designing and building the world's best speakers.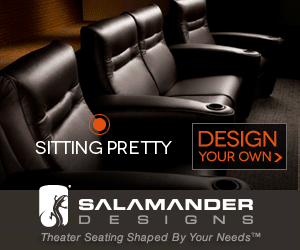 Subscribe to our RSS feed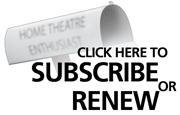 Reason #83 Why Readers Love Widescreen Review:
I read Widescreen Review because it's simply one of the most intelligent sources of A/V information, both in terms of format and content. Product reviews are honest and thorough. I humbly admit that for the last two years I have been borrowing my brother-in-laws' copies of WSR when he was finished reading them. I am now happy to report that as of last week, I am an official subscriber of WSR and will be for many years to come. I have not been in the Custom A/V industry very long (two years), but I have spent the last 12 years in the computer and networking world, and I know thoughtful, well-sourced copy when I read it. I have come to trust WSR's reviews as a benchmark from which I form many opinions. The hard work of each reviewer makes each of us who reads it a much more credible source of information for our clients. A mentor of mine once told me that no one person has all the answers. The trick is knowing who you should listen to, and WSR has proved itself worthy month after month.
Bryant Moore