Magnetar Audio Introduces The High-End UDP900 Universal 4K Ultra HD Blu-ray Player
April 14, 2023
Press Release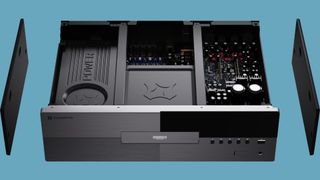 (Image credit: Magnetar)
The newly designed 6-layer gold immersion motherboard in the MAGNETAR UDP900 uses a high-precision, ultra-low-noise, temperature-compensated TXCO crystal oscillator, which powers the high-precision LDO power supply of the UDP-80 doubled. Murata multilayer ceramic capacitors, TDK magnetic components and 30 NCC electrolytic capacitors further improve audio and video quality.
The UDP900 is equiped with RCA and XLR balanced analog outputs. A USB hard drive can be connected for playback of local media files.
The UDP900 uses the quad-core system MediaTek MT8581 chipset supporting 4K ultra HD and HDR together with Dolby Vision, HDR10/10+, HDR to SDR conversion, with BT.2020/BT.709/BT.601 color space and 4K up-conversion. Audio support includes; Dolby TrueHD, DTS-HD Master Audio, Dolby Atmos and DTS-X and the player can decode DSD64/128, multi-channel DSD64 and 192kHz/24-bit PCM formats with AIFF, ALAC, APE, FLAC and WAV audio file support.
It is capable of multiple disc and media formats, including UHD-BD, BD, BD-R, BD-RE, DVD-R/RW, DVD+R/RW, DVD-Video, DVD-Audio, SACD, CD and CD-R/RW. In addition a USB HDD of up to 16TB is supported with direct access from your computer or NAS through your local network using DLNA or SMB protocols.
The main board is 6 layers and includes an ultra low phase noise TCXO temperature-compensated crystal oscillator and the same quad-core Mediatek MT8581 processor chip, while the dedicated stereo output board is 4-layers and uses high grade ELNA, NCC and WIMA audio grade capacitors. Digital to analog conversion is handled by ESS Saber PRO 32-bit Hyperstream II, 8-Channel Audio DAC's. An ESS9028PRO drives the 7.1 RCA outputs while a ESS9038PRO supports up to 140 dB DNR drives and the balanced XLR stereo outputs.
For high quality pure audio stereo only playback a separate four layer printed circuit board (pcb) is used that supports two independently wired channels. Two independent Burr-Brown PCM 1795 DAC processors are used for two-channel D/A decoding, processing left channel and right channel respectively. With high-quality MUSES8920 OP-AMPs for audiophile sound quality to drive both the stereo XLR balanced and stereo RCA unbalanced outputs.
Power comes from a heavily screened, custom, 60W high-power low noise transformer, with a two-stage filter design along with Japanese Rubycon electrolytic capacitors. The power supply module is a switched mode power supply (SMPS) and is universal voltage rated! The heavily shielded dual power supply provides a low noise switched mode supply to feed the digital motherboard and a 60 Watt analog supply to feed the main analog audio board. The customized high-power switching power supply with high transient response provides power for the digital main board: 50 Watt high-cut-rate bias noise transformer, two-stage input filter design, a large number of Japanese Rubycon electrolytic capacitors, and an independent metal shield to ensure a clean and abundant power supply enhance the quality of sound and picture. There is a 50 Watt linear ring power supply for analog audio, using imported magnetic core, high-density oxygen-free copper wire, metal cover and full potting to reduce vibration noise, reduce heat, improve the purity of image output, and ensure audio output quality.
The all aluminum alloy double-layer chassis bottom wire reinforced structure provides high rigidity reducing vibration while also providing electrical noise screening. The internal main components are conveniently covered with metal, which can greatly reduce vibration, noise, and external Eliminate field interference, bringing pure and unparalleled high-resolution sound and picture quality.
Sales product literature is atfromvinyltoplastic.com/wp-content/uploads/2023/02/UDP900-Spec-Sheet.pdf.
See magnetar-audio.com/bluray-player-udp900/ for more information on the soon to-be-released UDP900.
Technical Specifications UDP900:
Disc Support:

UHD Blu-ray, Blu-ray, Blu-ray 3D, DVD-Video, DVD-Audio, AVCHD-SACD, CD, Kodak Picture CD, CD-R/RW, DVD±R/RW, DVD±R DL, BD-R/RE

File Support:

MKV, AVI, MP4, WAV, FLAC, APE, DSD – (USB 3.0)

Outputs:

Stereo analog audio: XLR balanced (1) and RCA unbalanced output (1)
Multi-channel output: RCA unbalanced output (8)
Optical/coaxial audio: up to 2 channels /192kHz PCM, Dolby Digital, DTS
HDMI 2.0b audio: up to 7.1 channel /192kHz PCM, up to 5.1 channel DSD, Bitstream
HDMI 2.0b video: UHD/ 1080p24 / 1080p / 1080I / 720p / 576p / 576I / 480p / 480I

Analog Audio (TBC):

Frequency response: 20 Hz-20 KHz (+-0.03 dB)
Signal-to-noise ratio:

RCA: >120 dB
XLR: >130 dB

Total harmonic distortion + Noise: < 0.0005%
Output level:

RCA: 2.l ±0.2Vrms.
XLR: 4.2 ±0.4Vrms

Dynamic range: > 120dB
Channel separation (2 channel):

RCA: >120 dB
XLR: >140 dB

Mechanical:

Weight: 34.17 pounds, 15.5Kg
MSRP
UDP900 (TBC):

US: $2,700.00
UK: £2,200.00
EU: €2,490.00